Single Pole Switched Universal Socket Outlet with Neon & USB features soft edges and glossy surface design. W50 series supply a wide panel design which is contemporary and aesthetic, and its easier and quicker installation is very popular. Universal socket outlet can be inserted by a variety of different power plugs. Whether it is a plug for refrigerators computers, mobile phones, e-reader, hair dryers, or other plugs from different countries, they can be inserted to universal sockets with USB.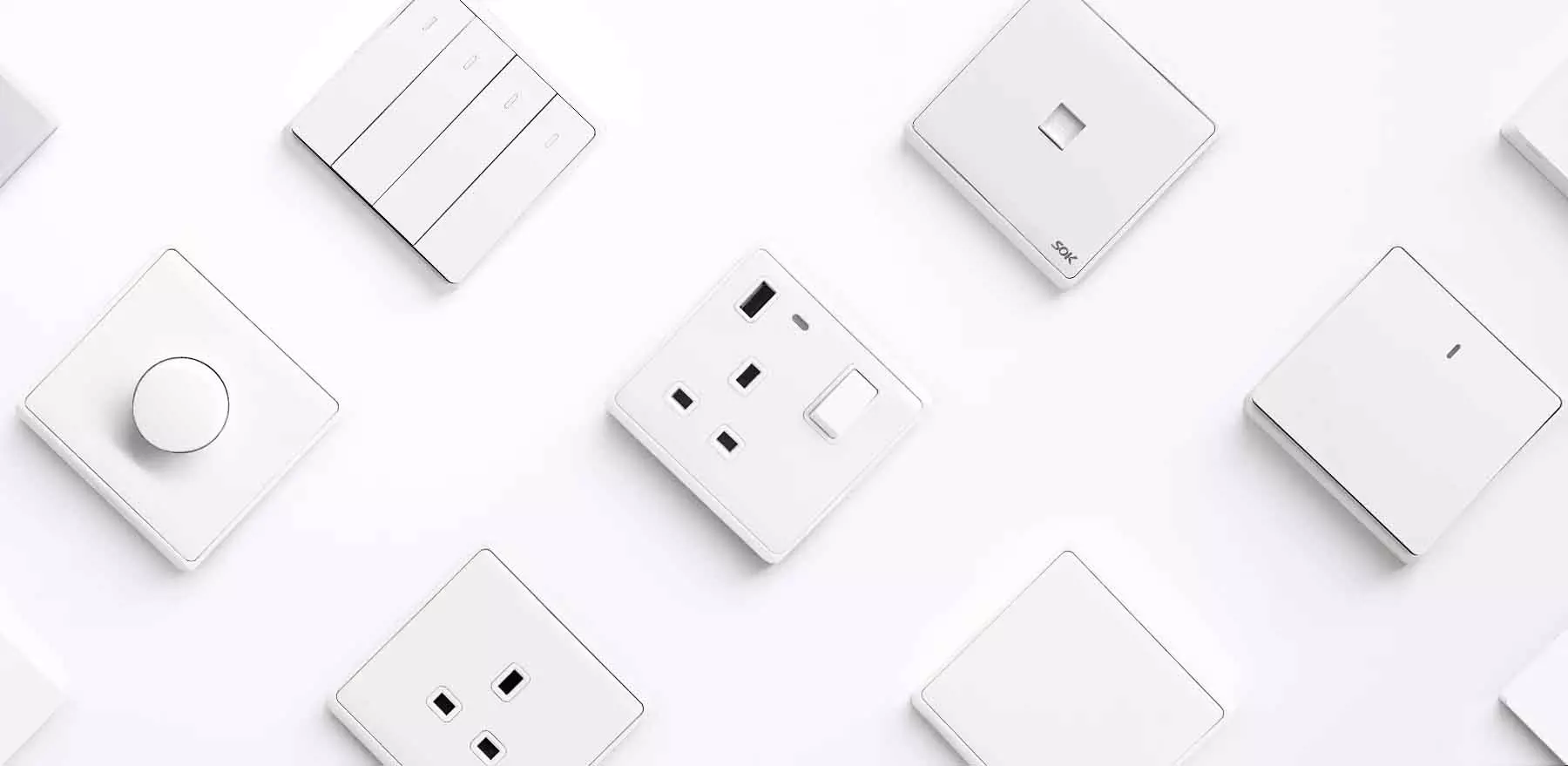 Product Introduction of the USB Charger + Single Pole Switched Universal Outlet with Neon - 2.1A 13A
1. The glossy cover plate is thin but solid enough, matched with matt insert and switch paddle.
2. The key benefit is that it offers a faster installation design, which removes one wiring step. Poke into two hole from the side and lift up the cover plate for fixing with accompanying fixing screws.
3. Universal outlet provides multi-jacks for different plugs, which is powerful and practical.
4. With children protectiveand dust-proof door, this switched universal outlet can effectively avoids accidents caused by electric shock. Shutter's function: three holes must be inserted at the same time to contact with copper pieces, also ideal during decoration.
5. 1.0A or 2.1A USB outlet on universal socket available.
6. LED dimmer switch and Fan dimmer switch are available for you to create your desired atmosphere.
7. Convenient for cafe, library, residential, restaurant, commercial, office, meeting room, airport, international hotels.
8. All of our goods will pass several quality inspections before shipment.
9. Price is competitive even with LED indication with 10-year guarantee.
10. Our payment terms are L/C at sight 30 days/60 days, D/P, T/T, Cash, Western Union. 30% as deposit and 70% as balance should be paid before shipment.
11. Make sure of high quality with very competitive price with 35 year's experience in making switches and sockets.
Product Parameter (specification) of the USB Charger + Single Pole Switched Universal Outlet with Neon - 2.1A 13A
Main
Type
USB charger + socket outlet
Series
W50 series
Brand Name
SOK
Model Number
W50/13USKD/USB
Color

Insert & button- matt finish white

Cover frame- glossy finish white

Or can be customized

Material
High polymer PC, PA
Complementary
Rated Voltage
250V~
Rated Current

1 Universal outlet: 13A

1 USB charger outlet: 1.0A/2.1A

Network Frequency
50/60Hz
Protection type

Automatic overload protection

Thermal protection

Battery charge protection

Against short-circuits

Power-off protection

Number of Gangs
1 Gang
Function
Single pole with shutter
Actuator
Rocker
Device Mounting
Flush or surface mounted
Fixing type
Concealed screws
Fixing Mode
By screw M3.5*25mm
Fixing Screws Material
Zinc-plated
Rivets Material
Brass
Connections
Screw terminals(pillar terminal)M4*9mm
Contacts Material
Brass
Embedding Depth
25 mm
Dimension
86*86mm
Environment
Ambient Air Temperature for Operation
-5~35℃
Flame Retardancy
850℃
IP degree of protection
IP20
Standards
IEC 60669; IEC 60950
Application
Hospital, Industrial, Canteen, Hotel, House, Restaurant
Contractual Warranty
Warranty
2 years
Packing
Packing

1 pcs/ plastic bag 150*120mm

10pcs/box 185*154*93mm

100pcs/carton 490*320*200mm

More Info.
Payment term
T/T, L/C, D/P, D/A...
MOQ
3000 pcs
Manufacture
Guangdong Jinli
Place of Origin
Guangdong, China
Certificate
ROHS, ISO9001 & ISO14001
Product Features and Application of the USB Charger + Single Pole Switched Universal Outlet with Neon - 2.1A 13A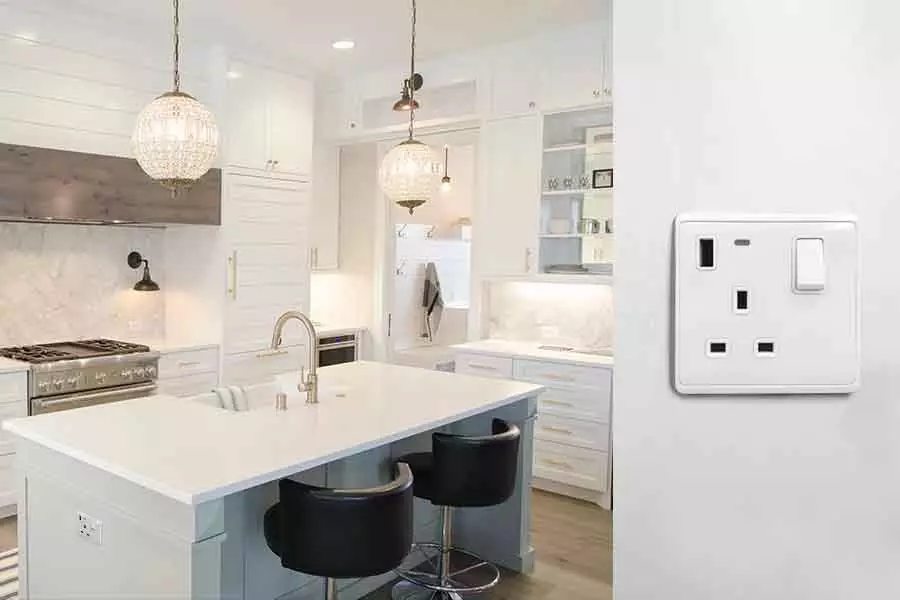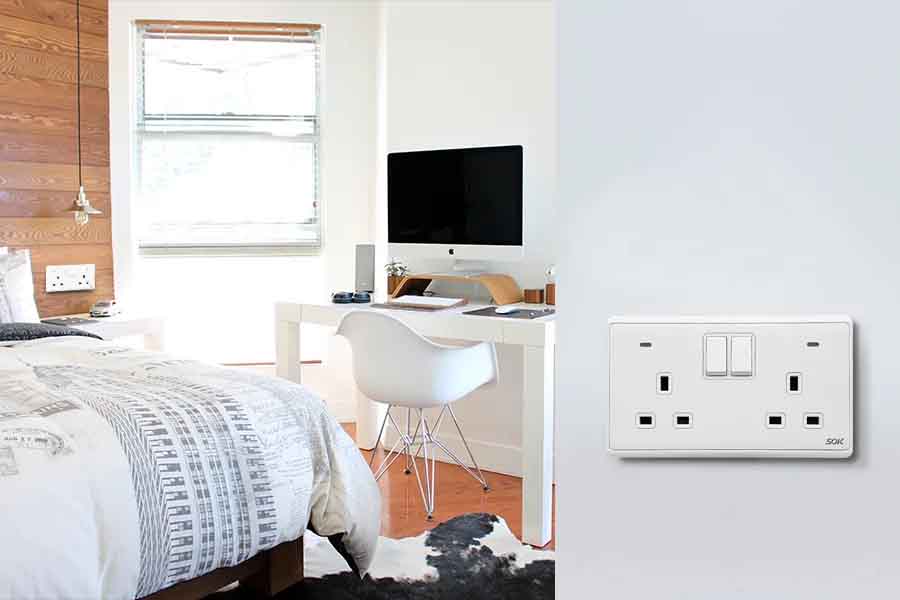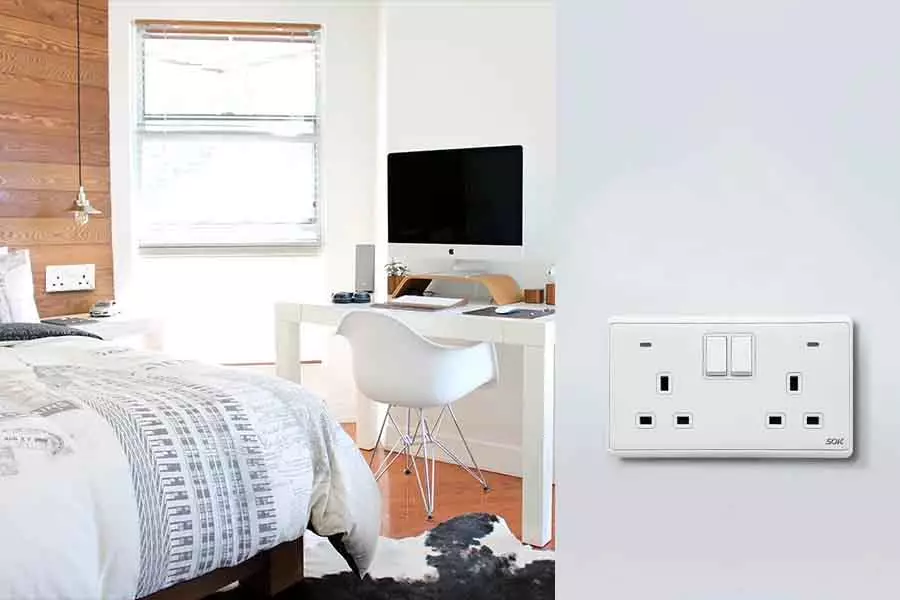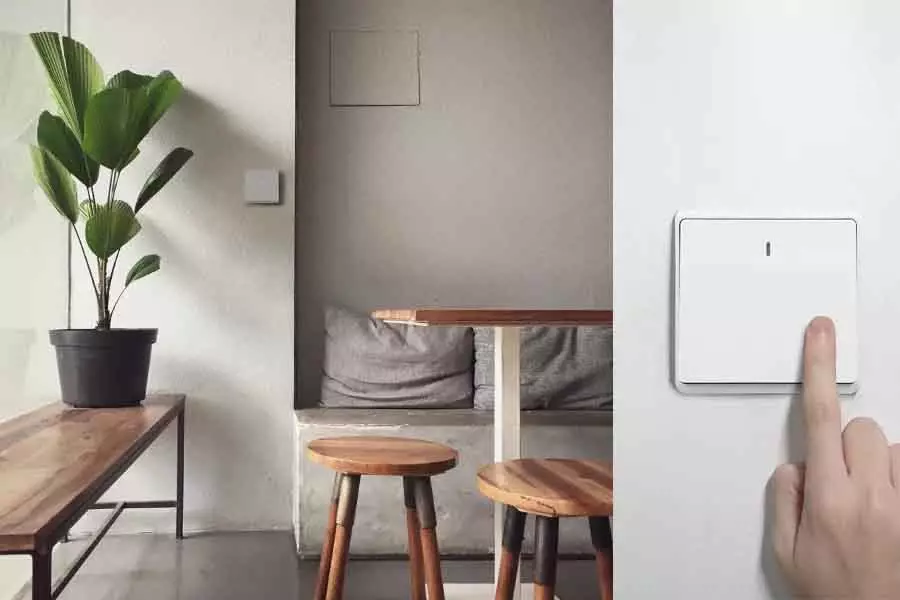 Assembling Instruction: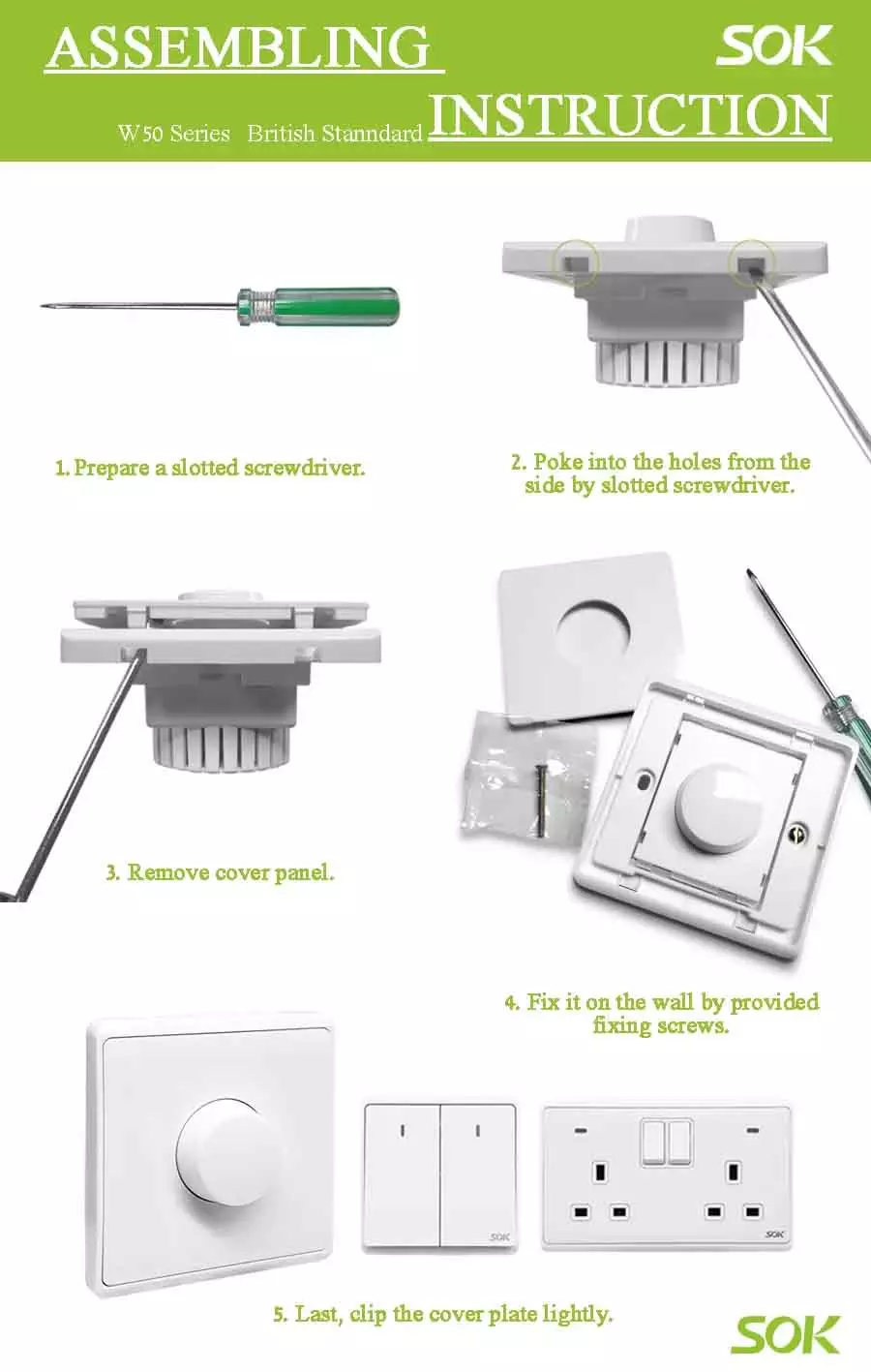 [template id="4277"]
FAQ of the USB Charger + Single Pole Switched Universal Outlet with Neon - 2.1A 13A
Q: What need to pay attention to when using USB outlet?
A: 1. When the USB socket fails, don't touch the bare connected wires. For safety, first cut off the power supply to prevent electric shock and conduction problems.
2. The USBplug cannot be wiped with a damp cloth, nor can it get wet. If you do not pay attention to this problem whenyou put the plug in the USB socket, it is easy to cause electric shock or fire accident.
3. When plugging and unplugging the USB plug, do not pull the plug wire with force. You should squeeze the USB plug by hand and pull the plug in a direction perpendicular to the USB socket. Be careful not to pull it out diagonally so as to avoid pulling out Electric panel of USB outlet.
4. If the environment around the installation of the USB socket is not good for heat dissipation, it is easy to cause the USB socket to spontaneously ignite and cause a fire and other phenomena. In addition, if the USB plug is not inserted properly, it will cause accidents caused by accidentally touched.
5. When using a USB socket, the USB plug must be plugged in, and there must be no looseness. If there is a loose problem, it is easy to have problems because of poor contact.
6. When the electric board of the USB socket is damaged, be careful not to insert the USB plug to connect it, because it is easy to leak electricity in this way and should let professional and technical personnel to maintain.
7. Do not exceed the maximum current bearing range of the USB socket. Generally, appliances with higher power cannot share the same power socket, because it is easy to destroy the socket and cause short circuit, and may burn the electrical appliances.
8. If plugs or USB socket is burn or blacken due to improper operations, it can no longer be used. For safety reasons, the USB socket should be replaced immediately.
Q: What's your delivery time?
A: Normally, it would be about 30-40 days as we need to produce for you after receiving your deposit. For shipment by sea, it usually takes 40-45 days to South America, 20-30 days to North of Africa, 30-40 days to Europe, 15-20 days to Middle East, 30-35 days to South of Africa, one week to Southern East Asia.
Q: How can I contact you?
A: If you have any ideas, please don't hesitate to contact us by:
TEL: 86-757-25333127
FAX: 86-757-25333206
WHATSAPP: 86 18988672820
E-MAIL: export01@jinli.com
HTTP: www.sokswitch.com
WEBSITE QR CODE: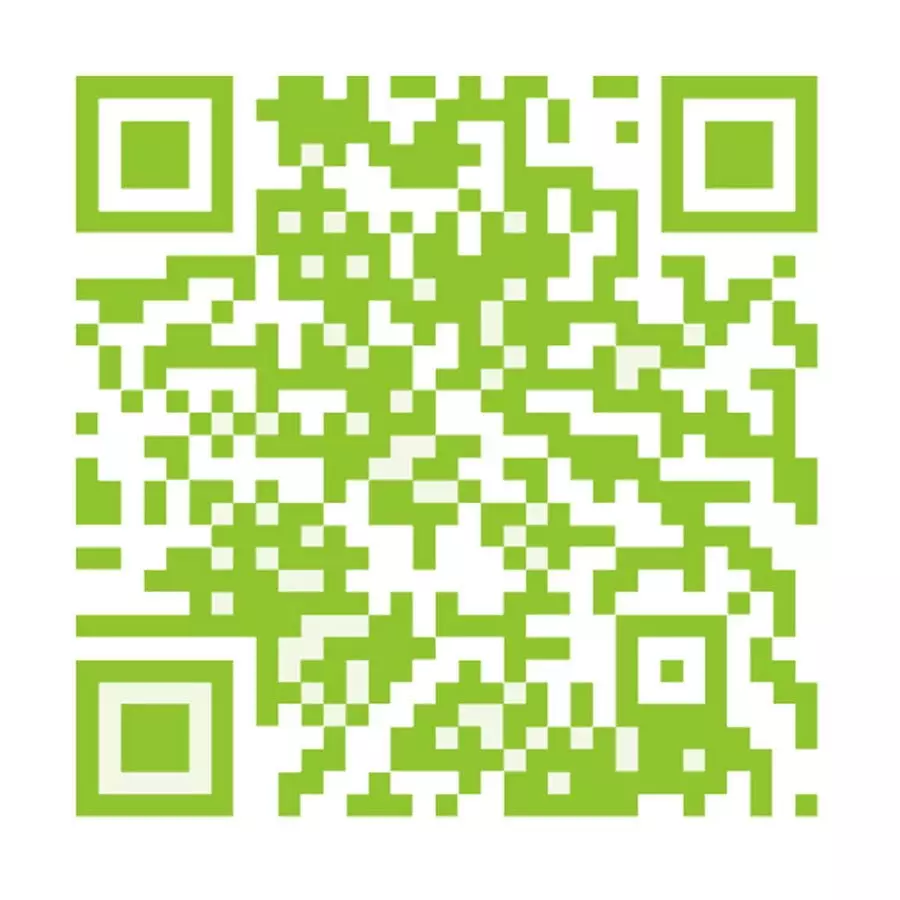 FACEBOOK: GUANGDONG JINLI ELECTRICAL APPLIANCE CO., LTD.
FB QR CODE: