Produvt Advantages
1.Rich application scenarios
S81 RCA Power Outlet has rich application scenarios, which are applicable to home decoration, exhibition, hotel, bar, restaurant, etc.
2.Strict product testing
We have professional laboratories approved by the state to test each batch of raw materials. Before the product is produced, trial production will also be conducted first.
3.Easy to install
The S81 series has the special mounting hangers, which can facilitate you to install and remove the product at any time.
4.Highly recognized
After continuous research and development and innovation, the S81 series is highly recognized in the European market.
Product Parameters
| | |
| --- | --- |
| Product name | S81 RAC Power Outlet |
| | |
| --- | --- |
| Model No. | S81/RCA |
| Device application | Power supply |
| Product or component type | Power Socket |
| Device presentation | Complete mechanism, match with S81 cover |
| Socket No. | 3 |
| Fixing Mode | Long claws |
| Rate current | 250V 50~60Hz |
| Color | White or Customized |
| Brand | Sok or Customized |
| Warranty | 10-year |
| | |
| --- | --- |
| Hanger material | White zinc plating |
| Hanger screw | ST35*15 |
| | |
| --- | --- |
| Audio terminal block(Red) | 13.1*10*19.4mm |
| Audio terminal block(White) | 13.1*10*19.4mm |
| Video terminal block (Yellow) | 13.1*10*19.4mm |
| | |
| --- | --- |
| IP degree of protection | IP20 |
| | |
| --- | --- |
| Manufacturer | Guangdong JINLI |
| Origin | Guangdong, China |
| | |
| --- | --- |
| Dielectric Strength | 2000V |
| Fire resistance | 850℃ |
| Ambient Air Temperature for Operation | -15~45℃ |
| Ambient Temperature for Storage | -20-50℃ |
| | |
| --- | --- |
| Certificated company | JINLI has ISO9001, ISO14001, OHSAS18000 certification |
| Product ready time | 25~45 days |
FAQ
Q1: What is the RCA Power Outlet?
A1: RCA is an abbreviation of Radio Corporation of American because the RCA connector was invented by this company. Also called AV terminal, also known as AV interface, almost all TV and DVD products have this interface. It is not specifically designed for which interface, it can be used for both audio and ordinary video signals, and it is also a DVD component (YCrCb) socket, but only three.
Q2: Why do we need to connect the RAC Power Outlet?
A2: The RCA interface realizes the separate transmission of audio and video, which avoids the image quality degradation caused by the mixed audio / video interference. At present, the most widely used interfaces on audio and video equipment, almost every audio and video equipment provides such interfaces for audio and video input and output.
Product detail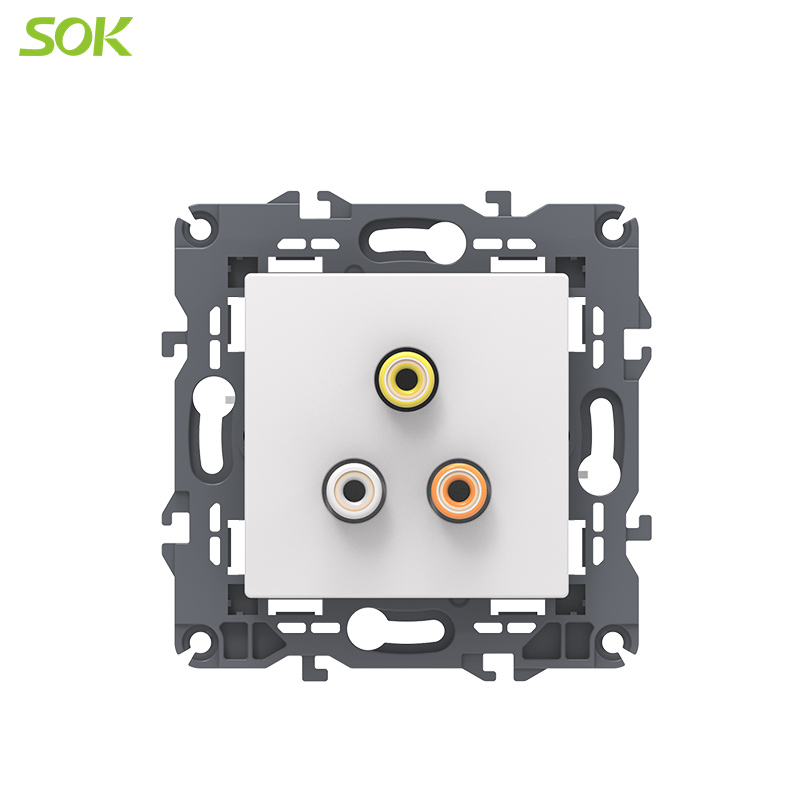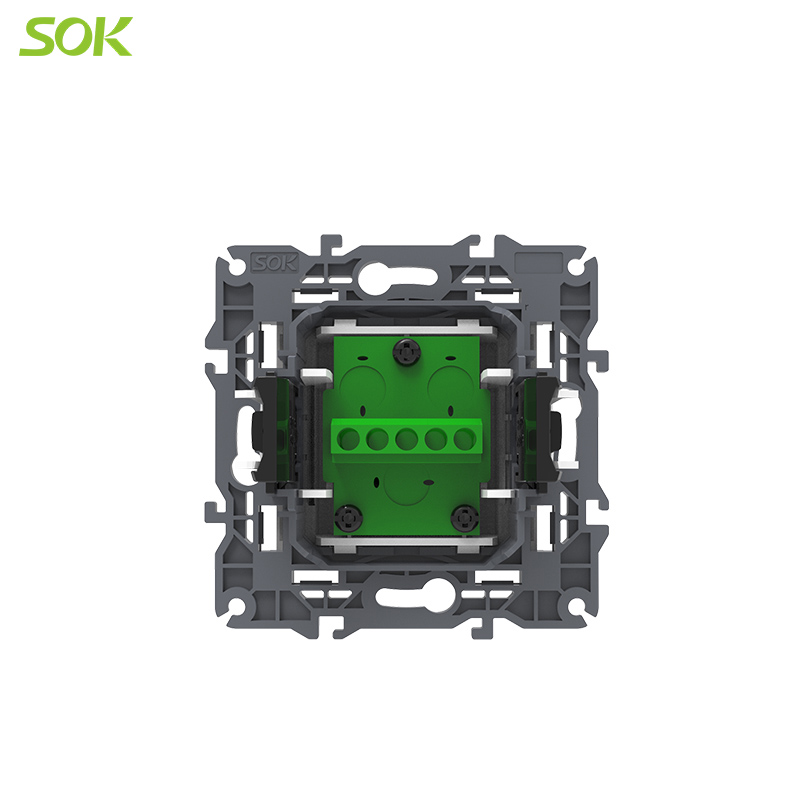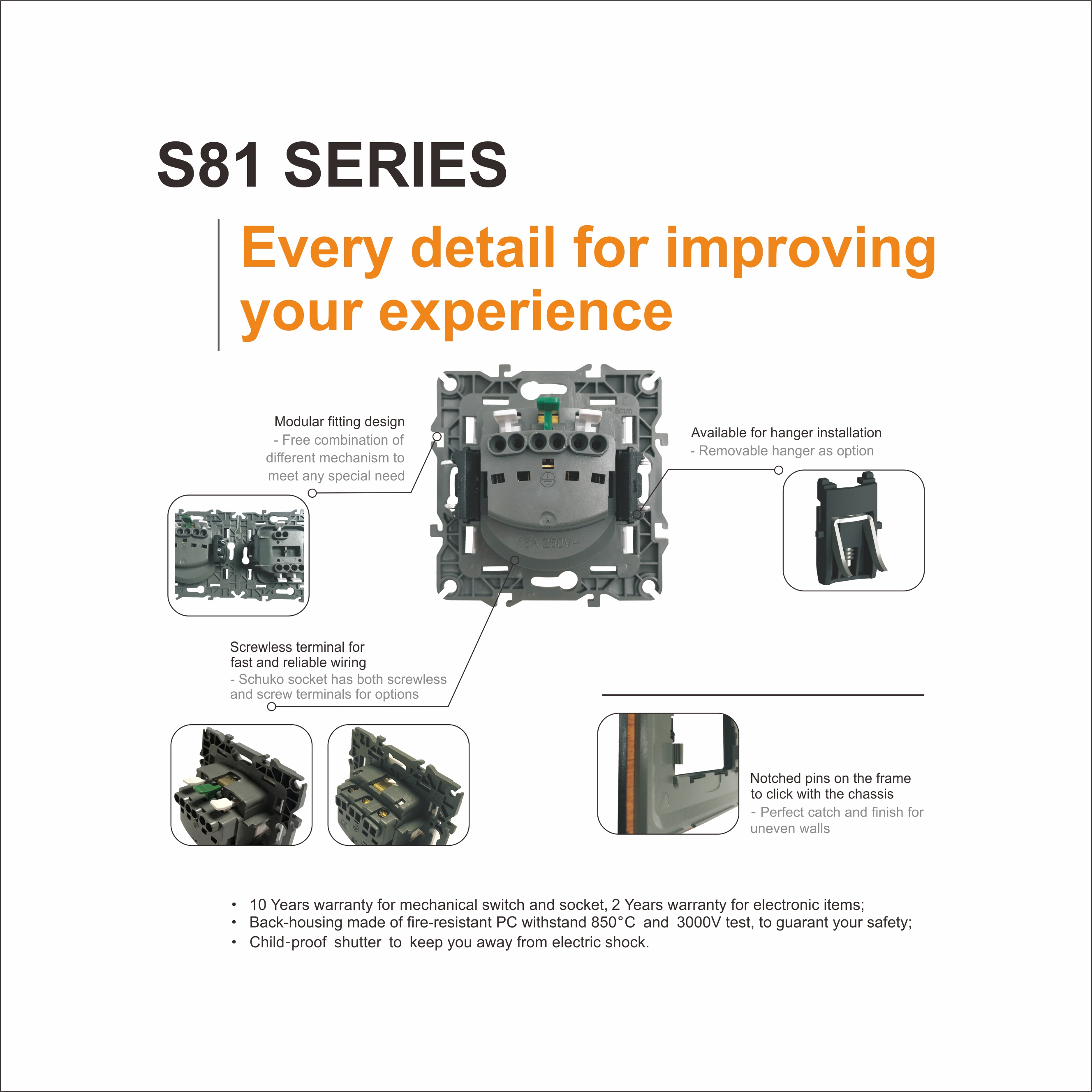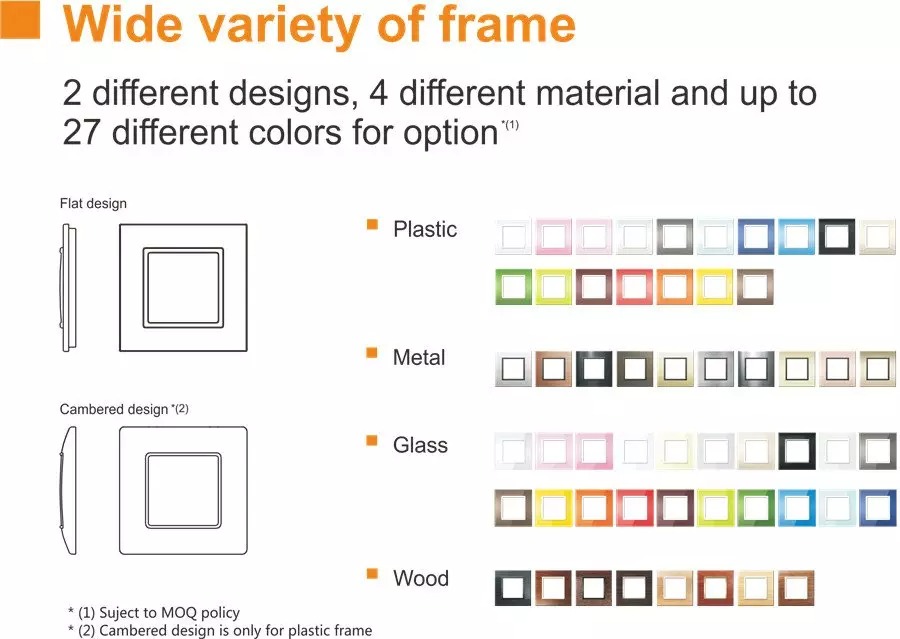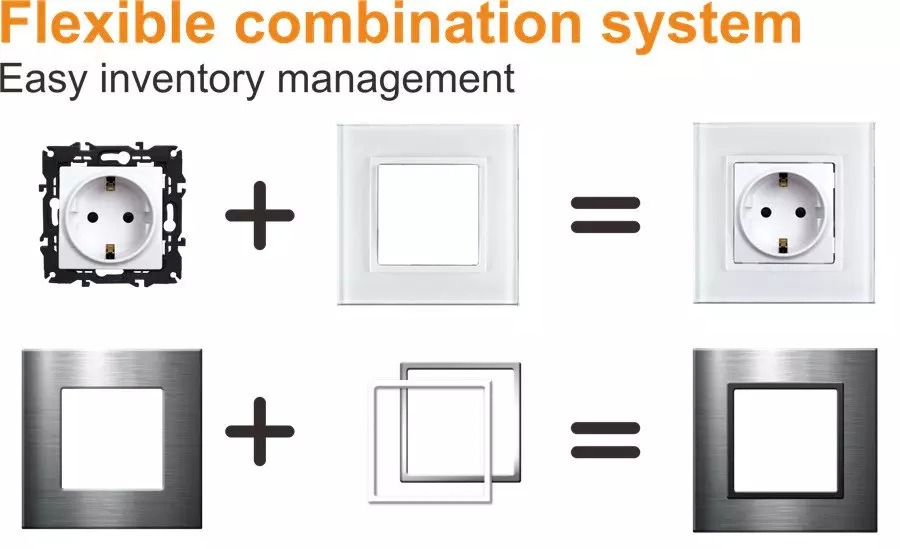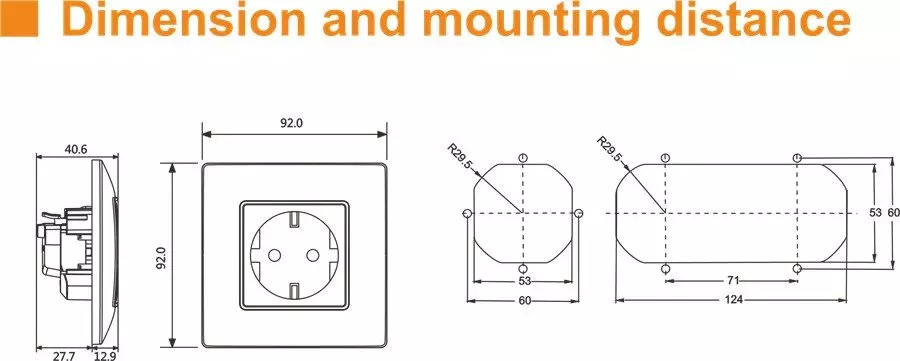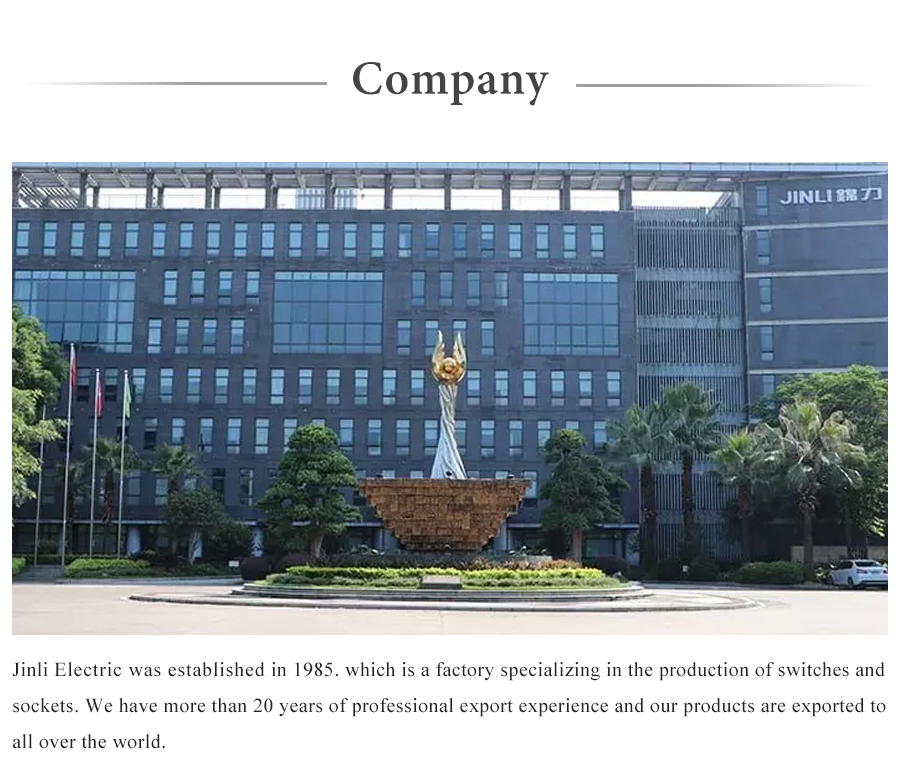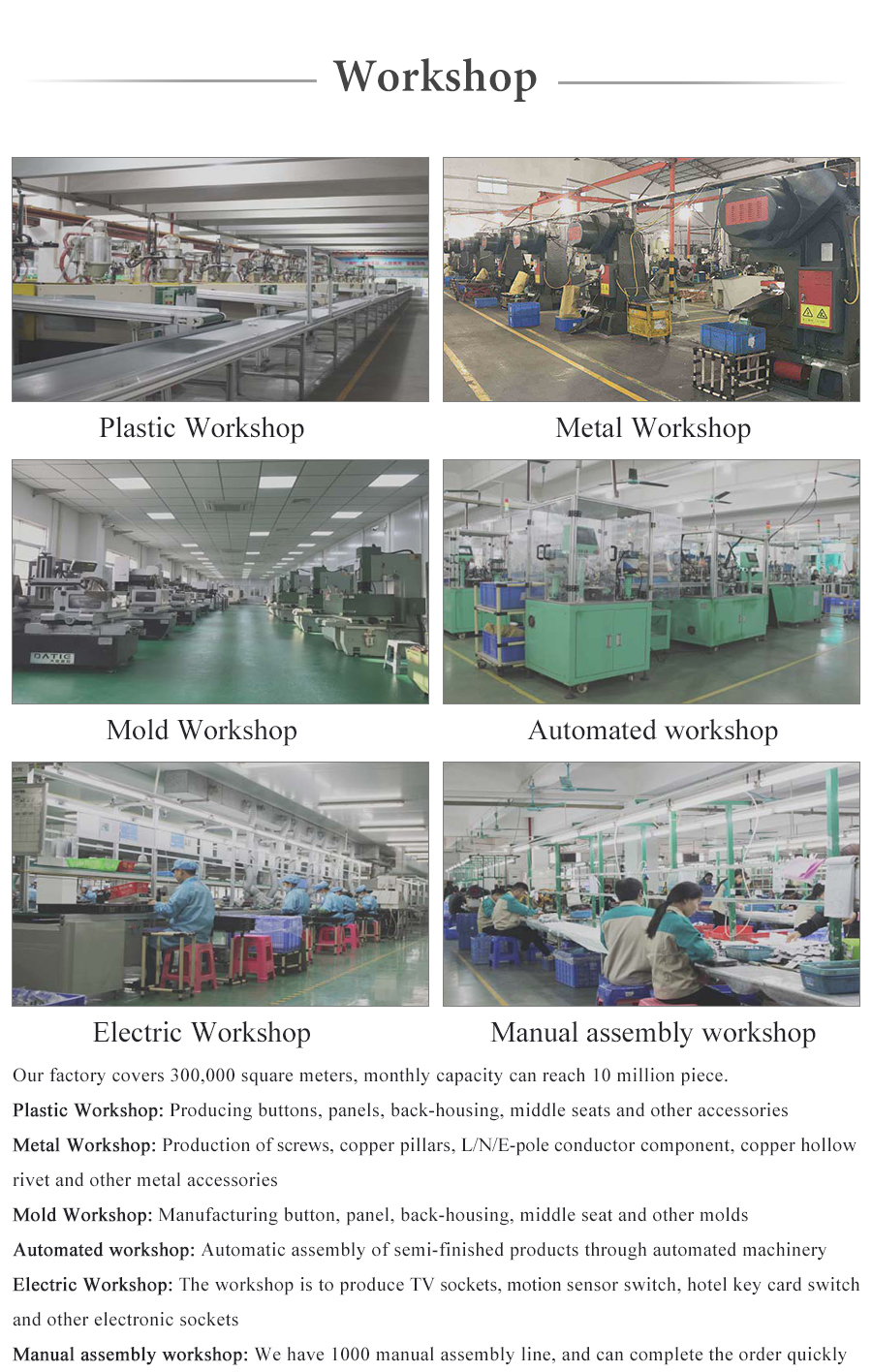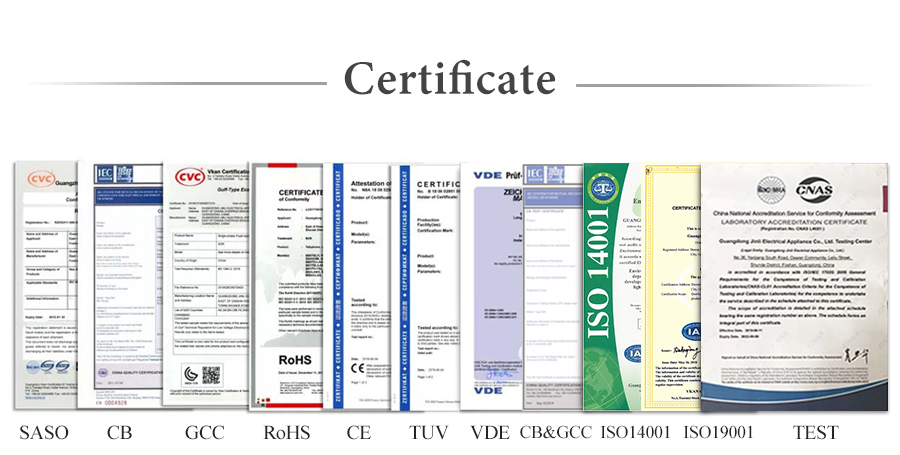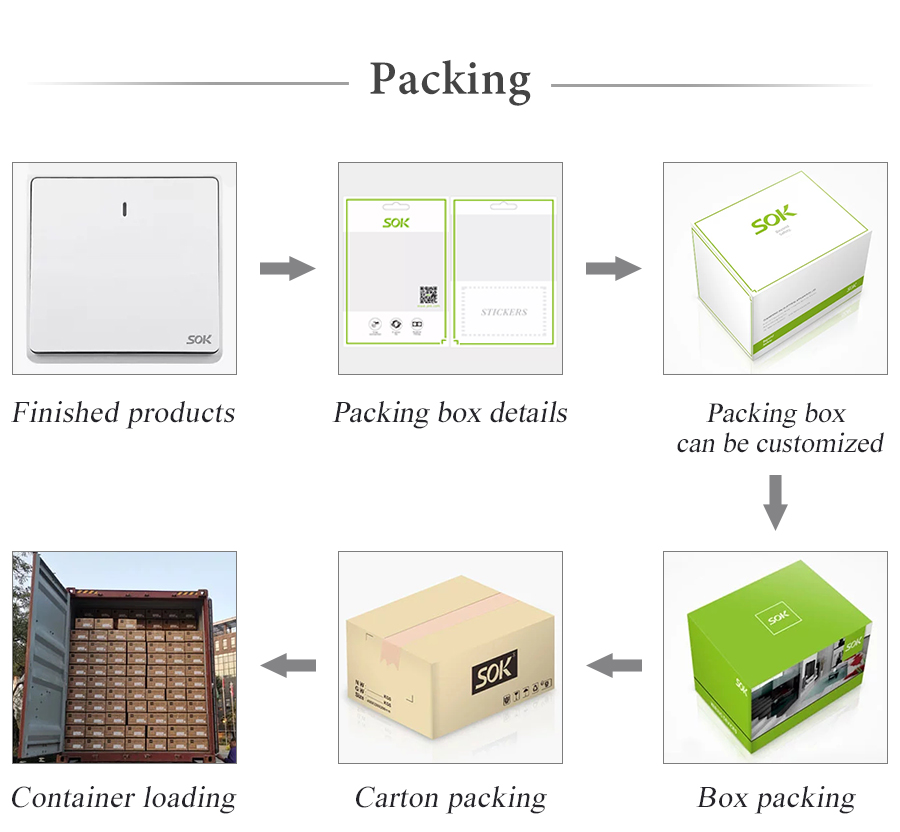 FAQ
Q: Can you do custom made? Price?
A: Yes, glossy switch buttons and surrounds can be customize to other PC color like red, black, cream, gray or painting color like pearl white/yellow, champagne, Black, Brown, Gray, Silver.... Also, painting color can do varnish finish. The price will be negotiated and affordable if the quantity is appreciable. And don't let the price affect your pursuit of ideal atmosphere.
Q: Do products have a Warranty?
A: Yes, SOK offers 10-year worry-free guarantee for all types of switched universal socket outlets, data socket outlets, double pole switch, 2 years for LED dimmer switches... Our efficient sales team and professional technical teams are ready to support your needs.
Q: What kind of service SOK can provide?
A: Presale: Having 20-year exporting experience, we will provide you very effective communication, devoting 100% enthusiasm and patience.
During: We will share you pictures to inform the latest production progress, trace the delivery timely, and help you arrange affordable shipment.
Aftersale: We will provide documents and tracking after shipment and inform you new products timely. And if any problems or questions after sales, please don't hesitate to contact us and we will give you a satisfactory response. Contact us by TEL: 86-757-25333127/6117/6192/6907 or E-MAIL: export01@jinli.com
Q: How you assure the quality?
A: During the whole production process, our quality control team will strictly inspect each process, from material selecting, material incoming, injection parts selecting, to metal parts punching, to ensure quality and punctual delivery. We also ensure the quality during producing process(line installation, semi automatic installation, automatic installation), packing, storing and loading.