13A 250V Single Pole Switched BS Socket Outlets with Neon - 1 Gang White
Soft corners and edges design that can efficiently avoid scratching. W50 series provide a wide panel design which is modern and aesthetic, and its easier to install
SOK has over 20 ranges products meeting Italy, Europe and British standards, obtained SASO, GCC, ROHS, CE, CB, VDE, TUV and Inmetro certificates.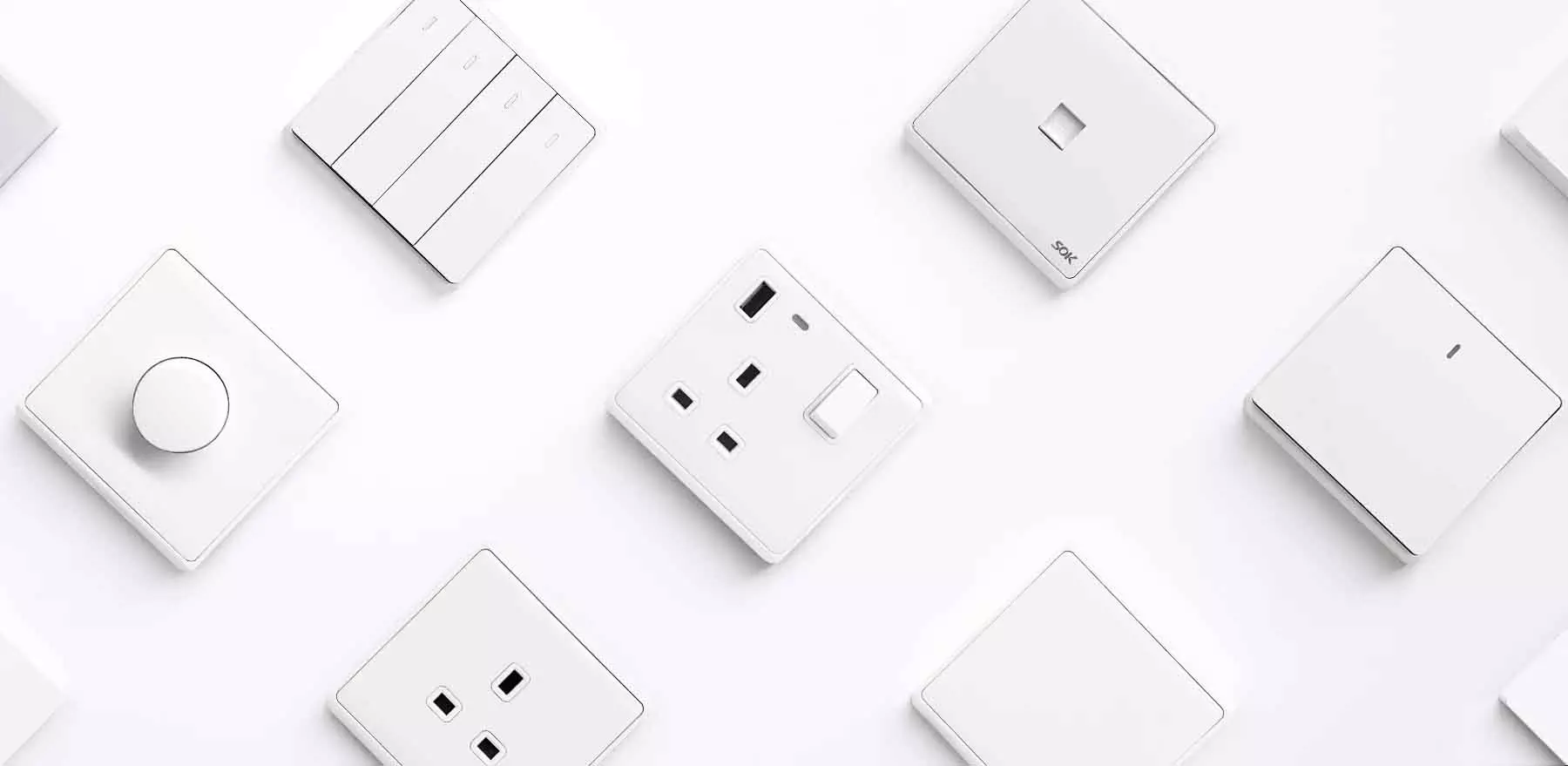 Product Introduction of the 13A 250V Single Pole Switched BS Socket Outlets with Neon - 1 Gang White
1. The glossy cover plate is slim but solid enough, matched with matt insert and switch paddle.
2. The key benefits are that the back housing is only 15mm and it applies a faster installation design, which is ideal for all applications where space in mounting-boxis limited.
3. With children protective and dust-proof shutter, this switch British outlet can effectively avoids the electricl accident. Shutter's function: three holes must be inserted at the same time to contact with copper pieces, also ideal during decoration.
4. The price is competitive and have 10 year warranty.
5. Thanks to a concealed-screws and flat-paneldesign, this single pole switched outlet is easy to clean.
6. Ideal for commercial building, residential places, comfortable hotels, museum and home decro.
7. Loading less than one container with trade term FOB SHUNDE is acceptable.
8. On time delivery, in general 30-40 days
9. The quality of our light switches and socket outlets will be ensured.
10. With over 1300 staffs, 108 injection machines, 20 high speed punching machines, 100 manual assembly lines, 9 automatic assembly lines, our monthly capacity can reach over 10 million pieces.
Product Parameter (specification) of the 13A 250V Single Pole Switched BS Socket Outlets with Neon - 1 Gang White
Main
Type
Switched BS outlet
Series
W50 series
Brand Name
SOK
Model Number
W50/13UKD
Color

Insert- matt finish white or customized;

Cover frame- glossy finish white

Material
High polymer PC, PP
Complementary
Rated Voltage
250V~
Rated Current
13A
Network Frequency
50/60Hz
Number of Gangs
1 Gang, 2 Gangs available
Function
Single pole, or Double pole switch available
Actuator
Rocker
Device Mounting
Flush or surface mounted
Fixing type
Concealed screws
Fixing Mode
By screw M3.5*25mm
Fixing Screws Material
Zinc-plated
Rivets Material
Brass
Connections
Screw terminals(pillar terminal)M4*9mm
Contacts Material
Brass
Embedding Depth
15 mm
Dimension
86*86mm
Environment
Ambient Air Temperature for Operation
-5~40℃
Flame Retardancy
850℃
IP degree of protection
IP20
Standards

BS 1363-2

SASO 2203

SS 145

MS 589

Application
Industrial, Hotel, House, Restaurant, Hospital
Contractual Warranty
Warranty
10 years
Packing
Packing

1 pcs/ plastic bag 150*120mm

10pcs/box 185*154*93mm

100pcs/carton 490*320*200mm

More Info.
Payment term
T/T, L/C, D/P, D/A...
MOQ
3000 pcs
Manufacture
Guangdong Jinli
Place of Origin
Guangdong, China
Certificate
CB, CE, ROHS, SASO, GCC, ISO9001 & ISO14001
Product Features and Application of the 13A 250V Single Pole Switched BS Socket Outlets with Neon - 1 Gang White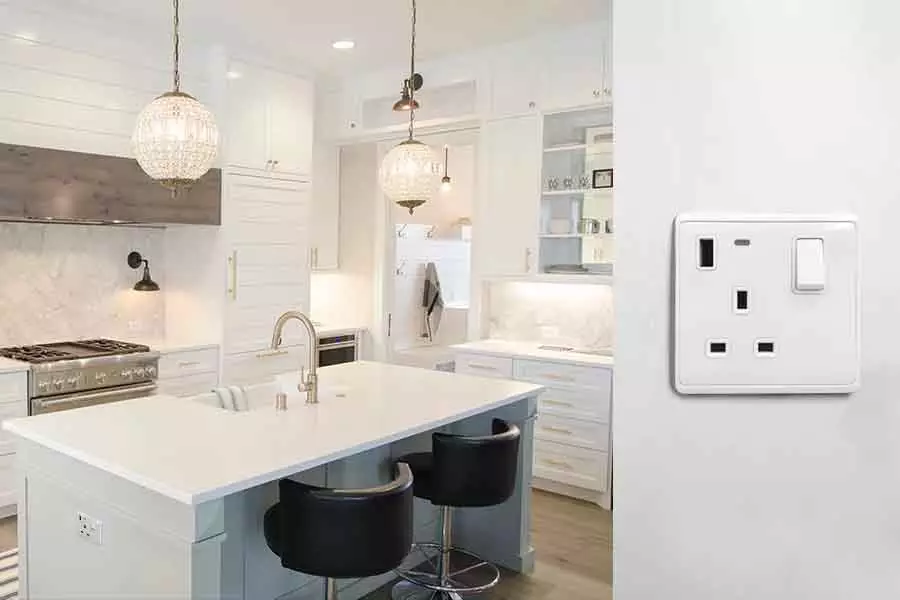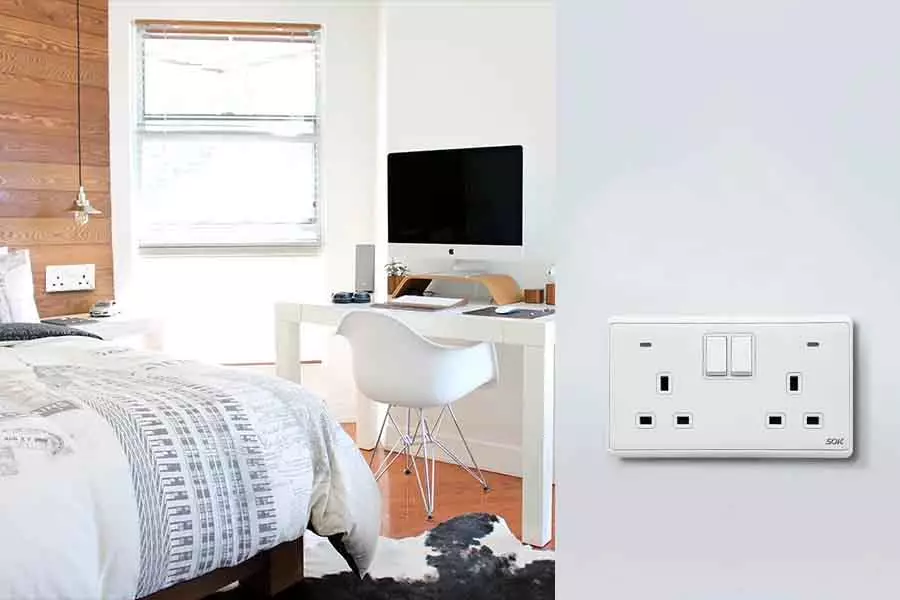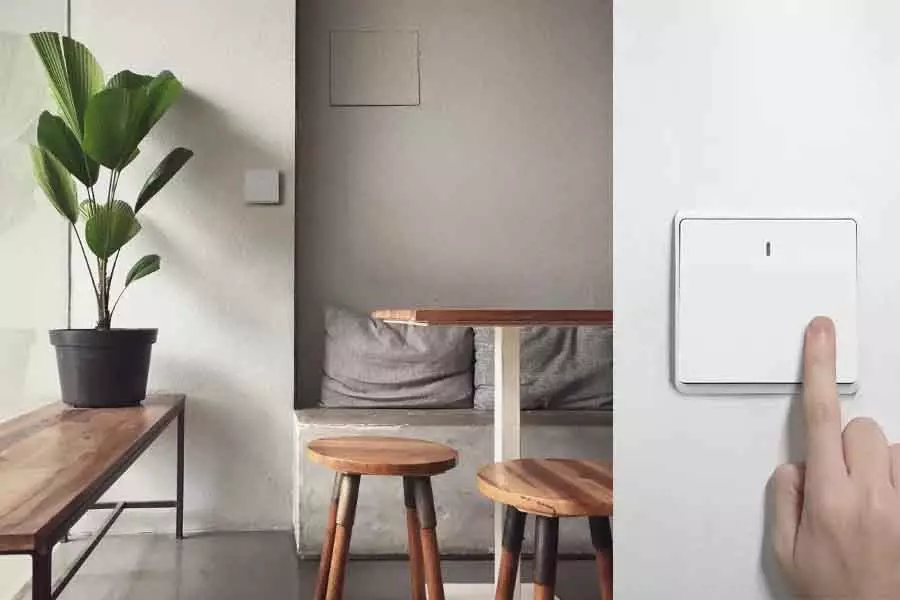 Product Image:

Assembling Instruction: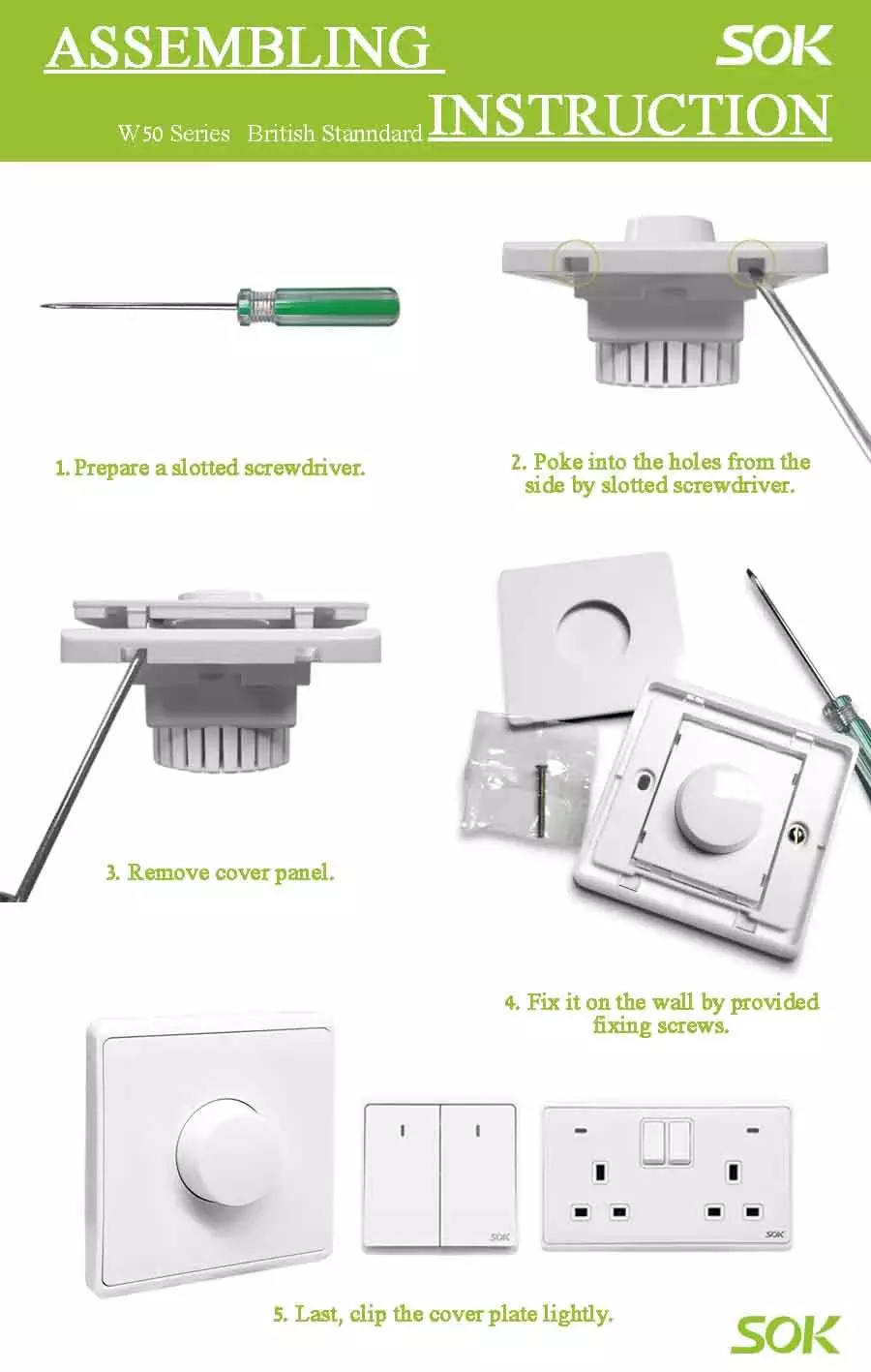 FAQ of the 13A 250V Single Pole Switched BS Socket Outlets with Neon - 1 Gang White
Q: What is the functions of high polymer PC used on this product?
A: High polymer PC material is highly resistant to fire, impact, distortion, corrosion and discoloration. Cover panel, housing and surround can pass 850℃ flammable test.
Q: Can you give us tips for selecting British socket?
A:
1. When you select the panel, the first thing you pay attention to is its appearance. The high-quality plastic used on thesurface looks very smooth and glossy. Good quality PC material is great resistance to flame, insulation, impact and fading. The most important thing is that it efficiently prevent the occurrence of fire accident
2. In addition, we need to care its internal structure.Oldswitches generally used pure silver or silver-cadmium alloy as the contact material, but now, many well-known brands use silver-nickel alloy as the contact material because pure silver and silver-cadmium alloy are prone to pollution.
3. The performance of silver-nickel alloy is better than pure silver or silver-cadmium alloy. Using silver-nickel alloyas terminals can not only prevent oxidation caused by the arc when the switch is on and off, but also does noteasy to deform and diffuse. In this case, the switch has a longer service life, bringing consumers a safety guarantee.
4. When you select the switch and socket plates, you still have to verify whether products have passed safety certification. Domestic brands in China generally have to pass 3C certification, ISO9000 series certification, etc. Exporting wiring device products have to obtain Certification of the importing country like CE, CB, SASO, GCC, TUV, VDE, etc. Besides, in order to prevent children from inserting their hands into the socket, it is recommended tobuy a socket with a safety shutter.