Jinli Certification Video:
As a supplemental and essential wiring device, this unit is the one you're searching for. Smooth surface, soft edges, glossy finish and pure white color, all these are aesthetic pleasing and suit for any decorations.
Product Introduction of the 1 Gang RJ45 LAN + 1 Gang TV Socket Outlets - White
1. Features an clean and elegant appearance with a concealed-screwdesign. Also, it's durable and easier for cleaning.
2. Insert to two holes by slotted screwdriver from the bottom side to disassemble, and lightly clip the surface panel on the chassis.
3. Applies good qualityPC material on cover and frame, which is highly resistant to discoloration, fading, heating, impact, and scratches.
4. Delicatepattern with functions of dustproof, waterproof, prevention of electric shock risk caused by children.
5. Eco-friendly: all material and LAN & TV modular has passed ROHS, and also passed 24-hour salt spray tests.
6. Customization: The glossy surface and matt insert can be changed in other painting finishes and injection colors like beige, champagne, dark gray, black, silver, green etc.
7. TEL outlets and single pole switched BS outlet available.
8. Ideal for Internet cafe, commercial, residential and industrial building, library.
9. Payment terms like L/C, Cash, T/T, D/A, D/P, Western Union provided.
10. SOK provides 10-year warranty for light switch, led dimmer switch, wall socket, Italy sockets, German sockets, British sockets.
Product Parameter (specification) of the 1 Gang RJ45 LAN + 1 Gang TV Socket Outlets - White
Main
Type
LAN socket
Series
W83 series
Brand Name
SOK
Model Number
W83/LAN/TV
Color
White
Material
PC
Complementary
Number of Gangs
1 Gang, 2 Gangs available
Device Mounting
Flush or surface mounted
Fixing type
Concealed screws
Fixing Mode
By screw M3.5*25mm
Fixing Screws Material
Zinc-plated
Embedding Depth
15 mm
Dimension
86*86mm
Environment
Flame Retardancy
850℃
IP degree of protection
IP20
Application
Industrial, Hotel, Club, Restaurant, Hospital, Residential
Contractual Warranty
Warranty
10 years
Packing
Packing
1 pcs/ plastic bag 150*120mm

10pcs/box 185*154*93mm

100pcs/carton 490*320*200mm

More Info.
Payment term
T/T, L/C, D/P, D/A...
MOQ
3000 pcs
Manufacture
Guangdong Jinli
Place of Origin
Guangdong, China
Certificate
ROHS, CB, CE, SASO, GCC, ISO9001 & ISO14000
Product Details of the 1 Gang RJ45 LAN + 1 Gang TV Socket Outlets - White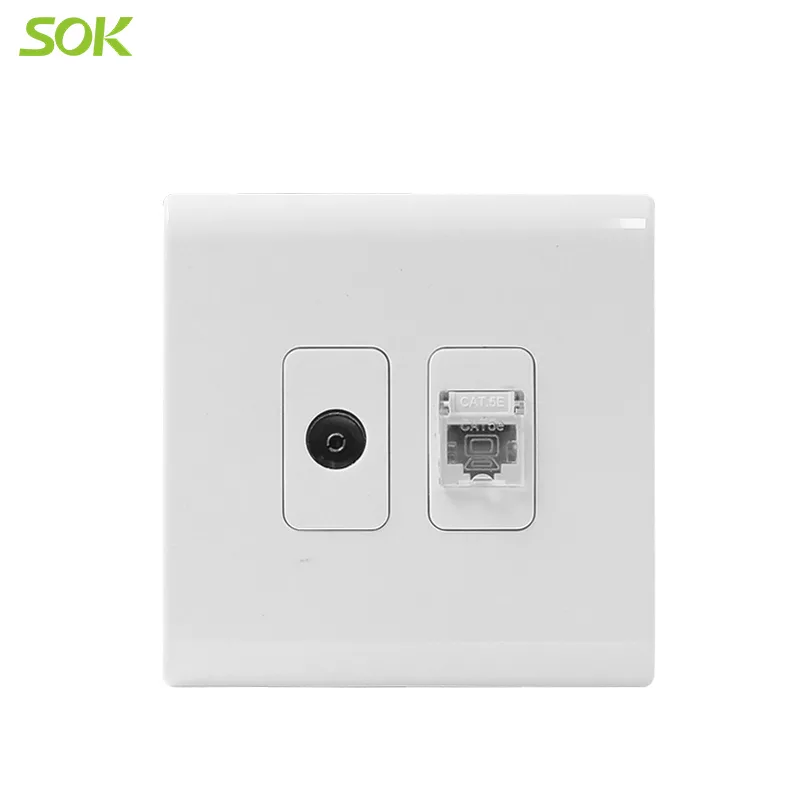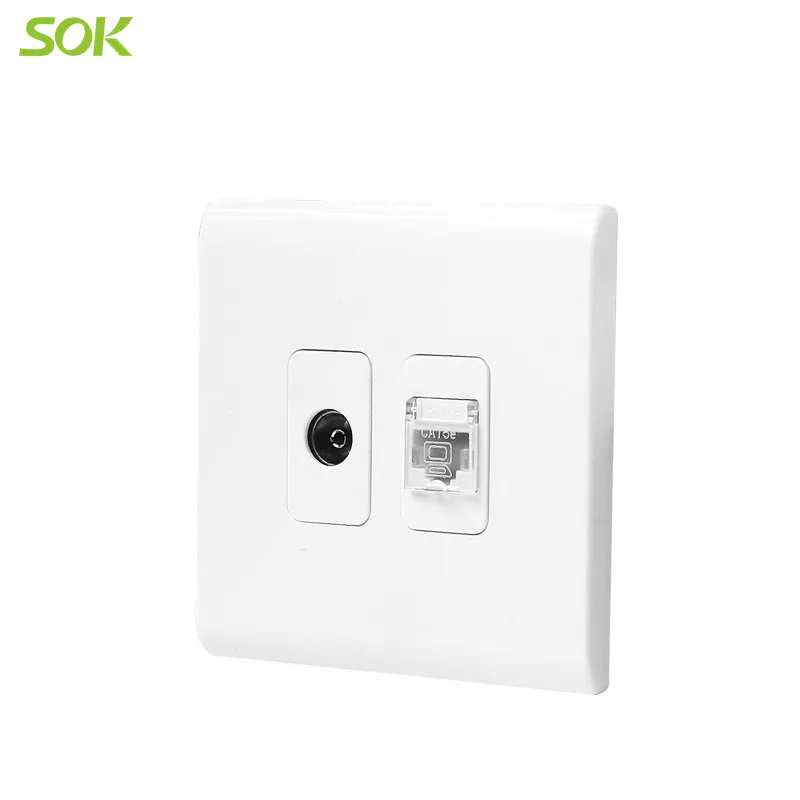 Product Qualification of the 1 Gang RJ45 LAN + 1 Gang TV Socket Outlets - White
With rich ODM & OEM experience and 35-year history in producing light switches and socket outlets, SOK can do more than that to win your satisfaction.
MOLD WORKSHOP & INJECTION WORKSHOP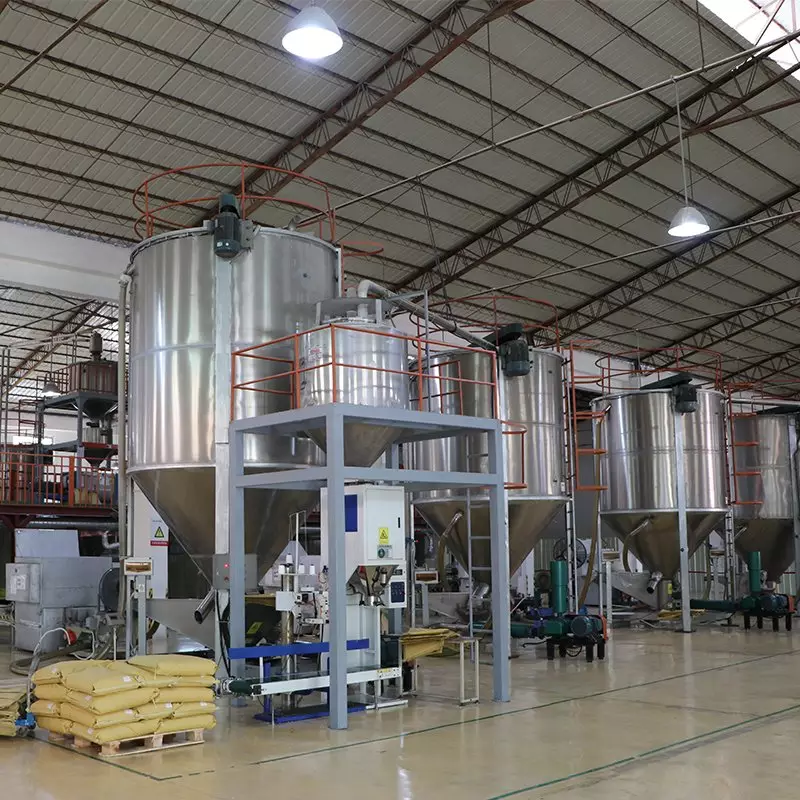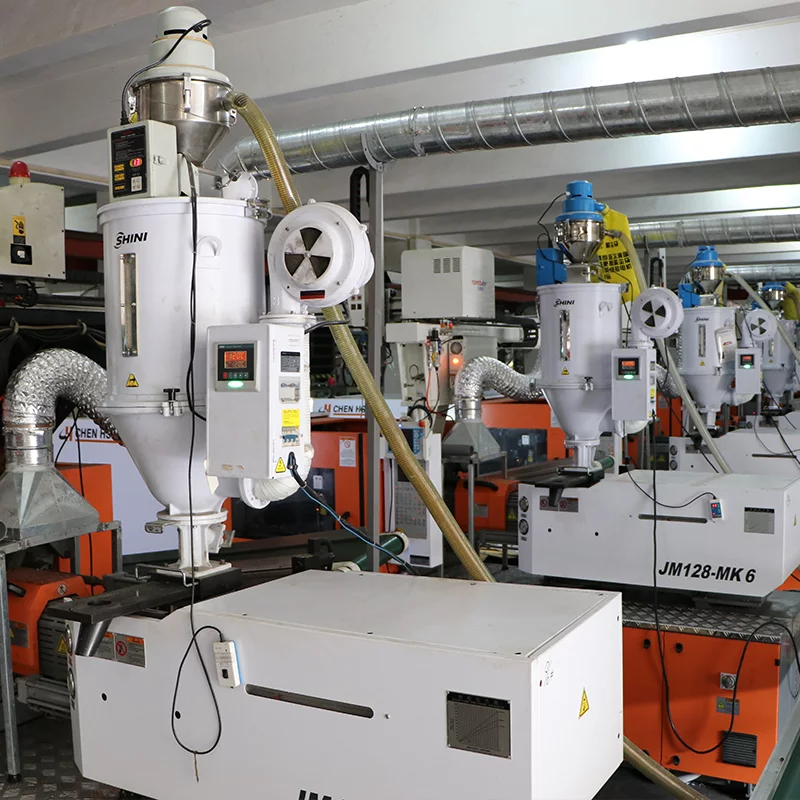 BEAUTIFUL OFFICE BUILDING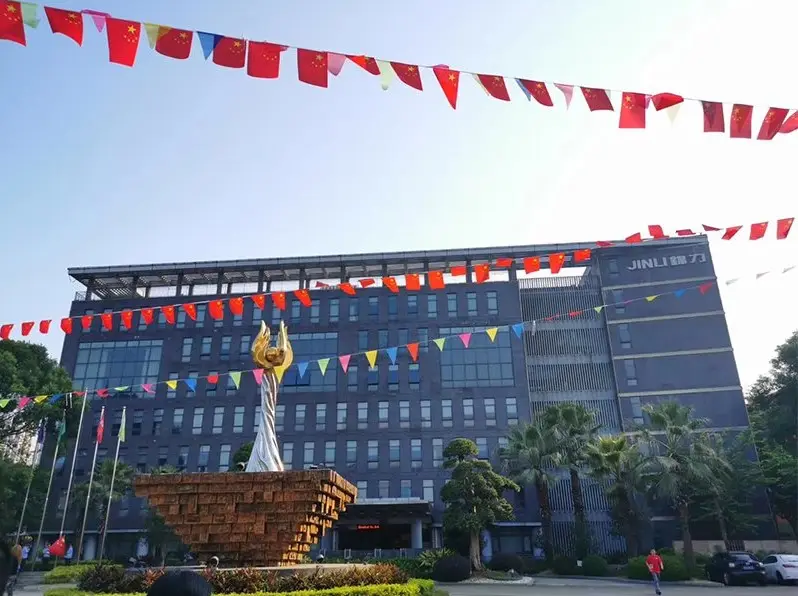 Jinli factory Successfully certified with ISO9001 & ISO14001 quality system certificate & CNAS TEST LAB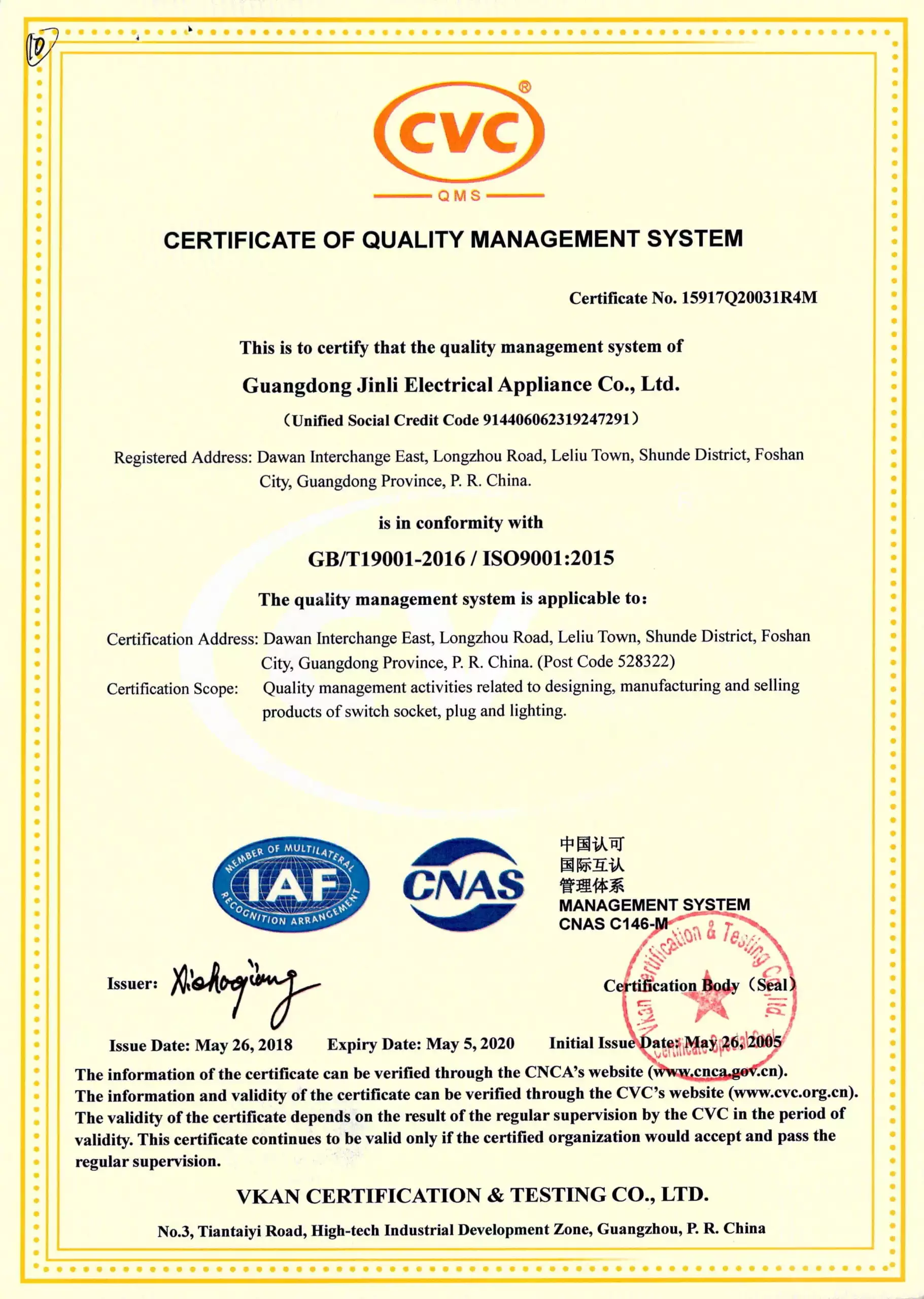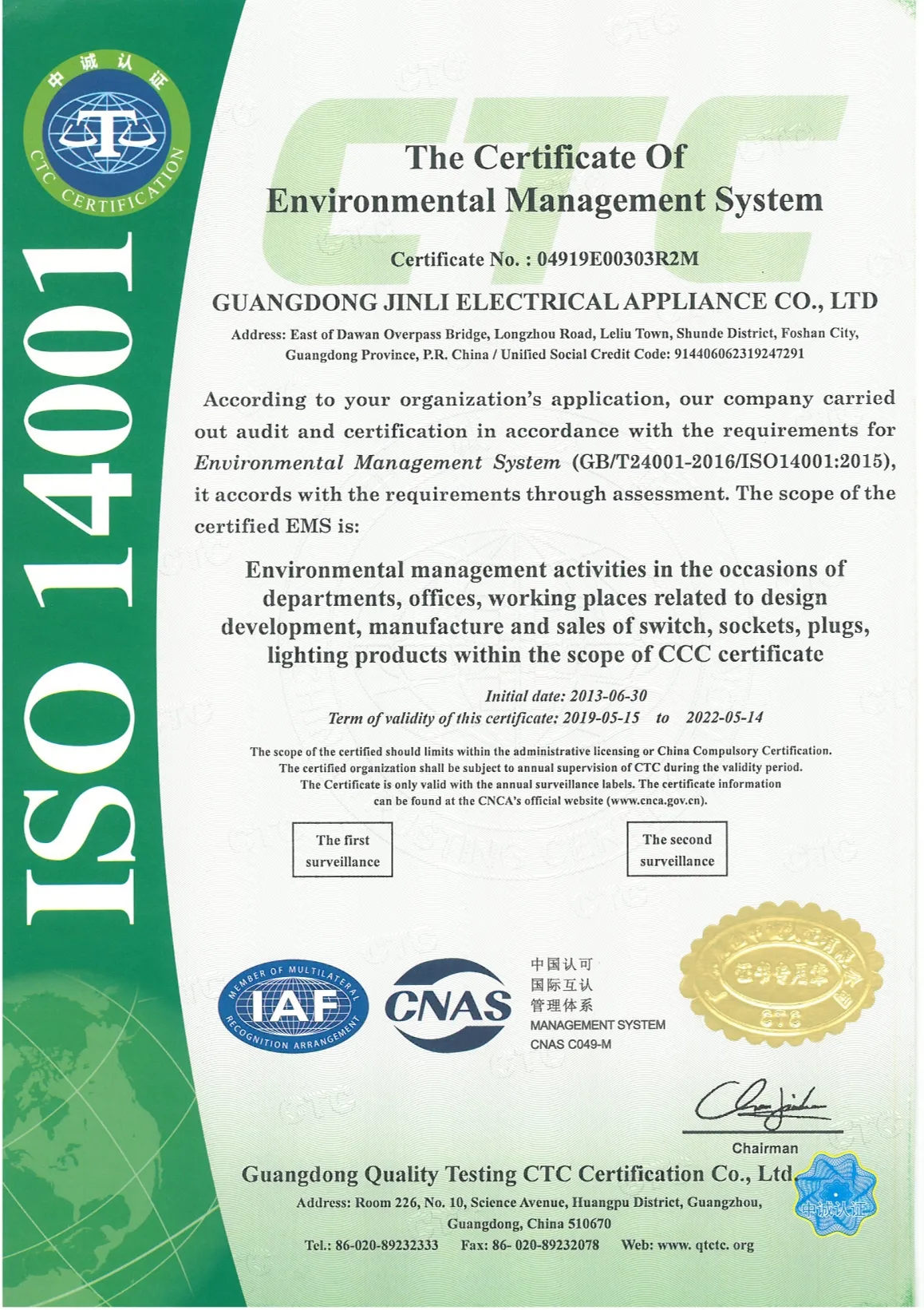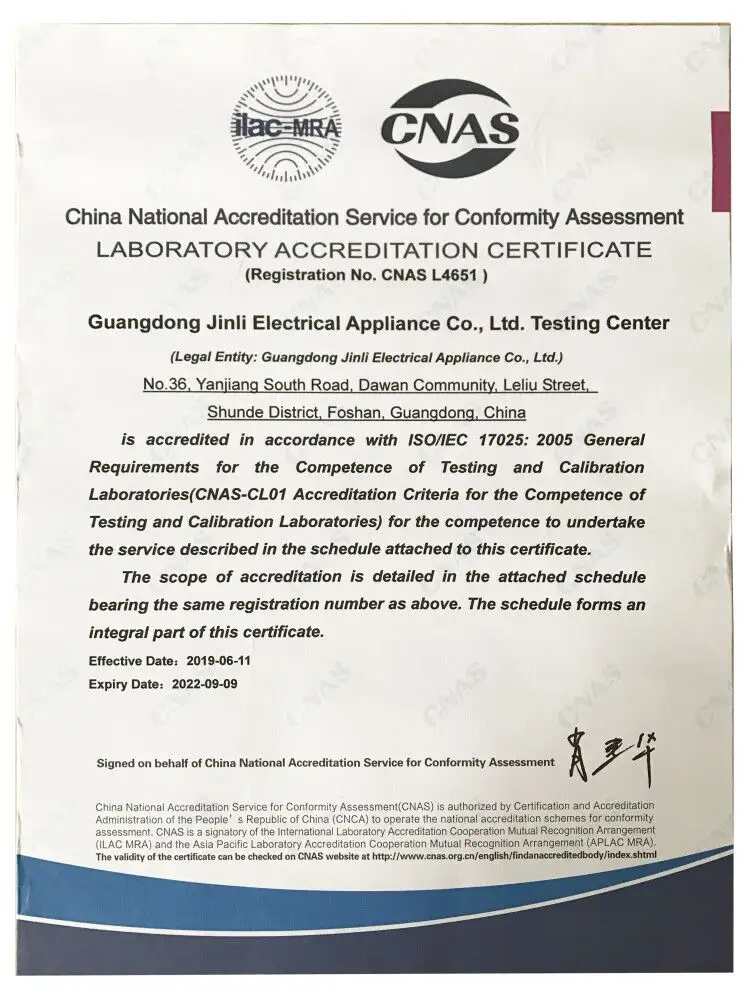 Concentrating on Wall switch and socket outlet manufacturing for 35 years, SOK has developed 30 series of wide range products to meet the requirement of BS standard, European standard and Italy standard. VDE, TUV, CE, CB, ROHS, GCC, SASO, Inmetro Certificates are available.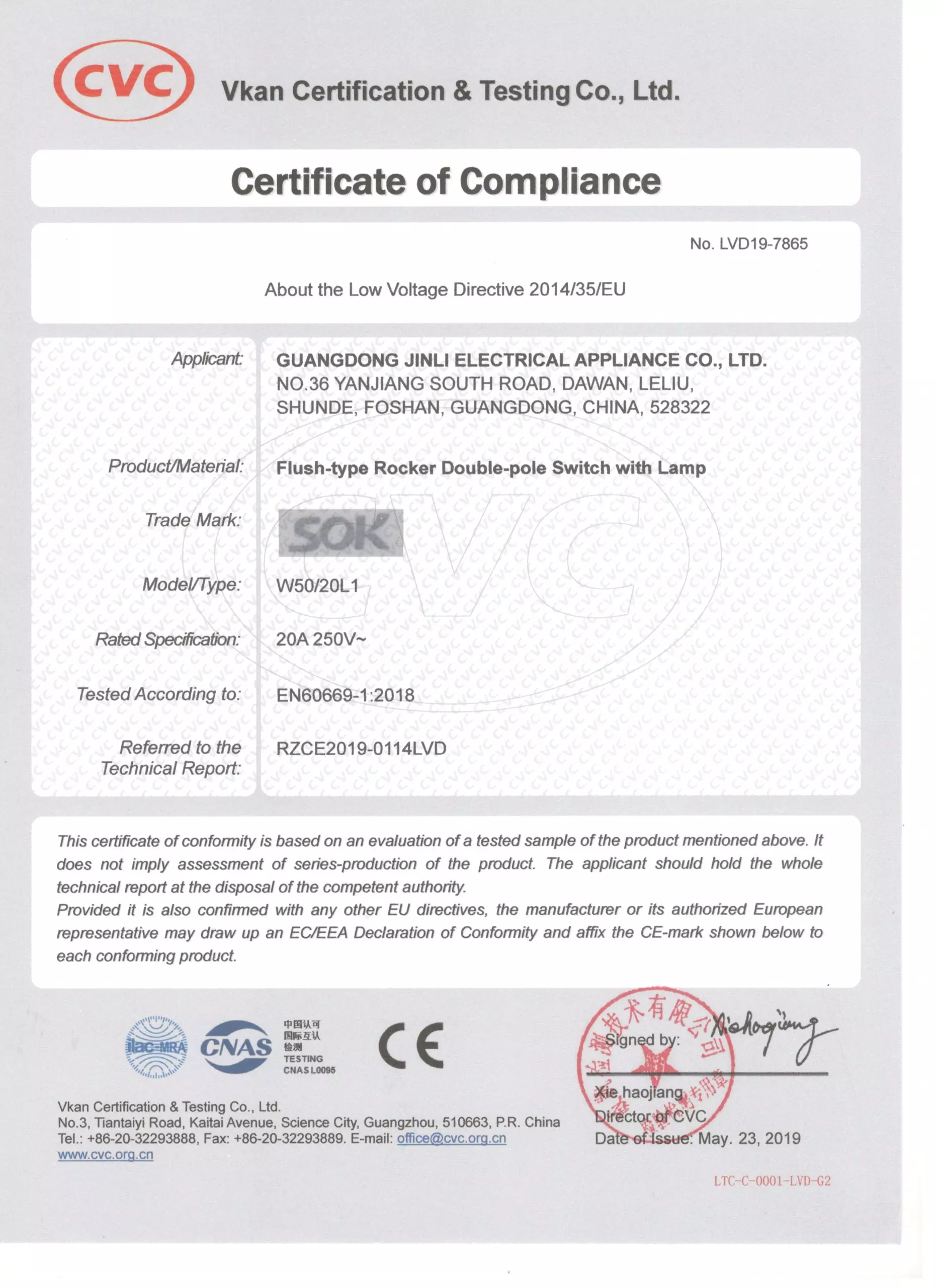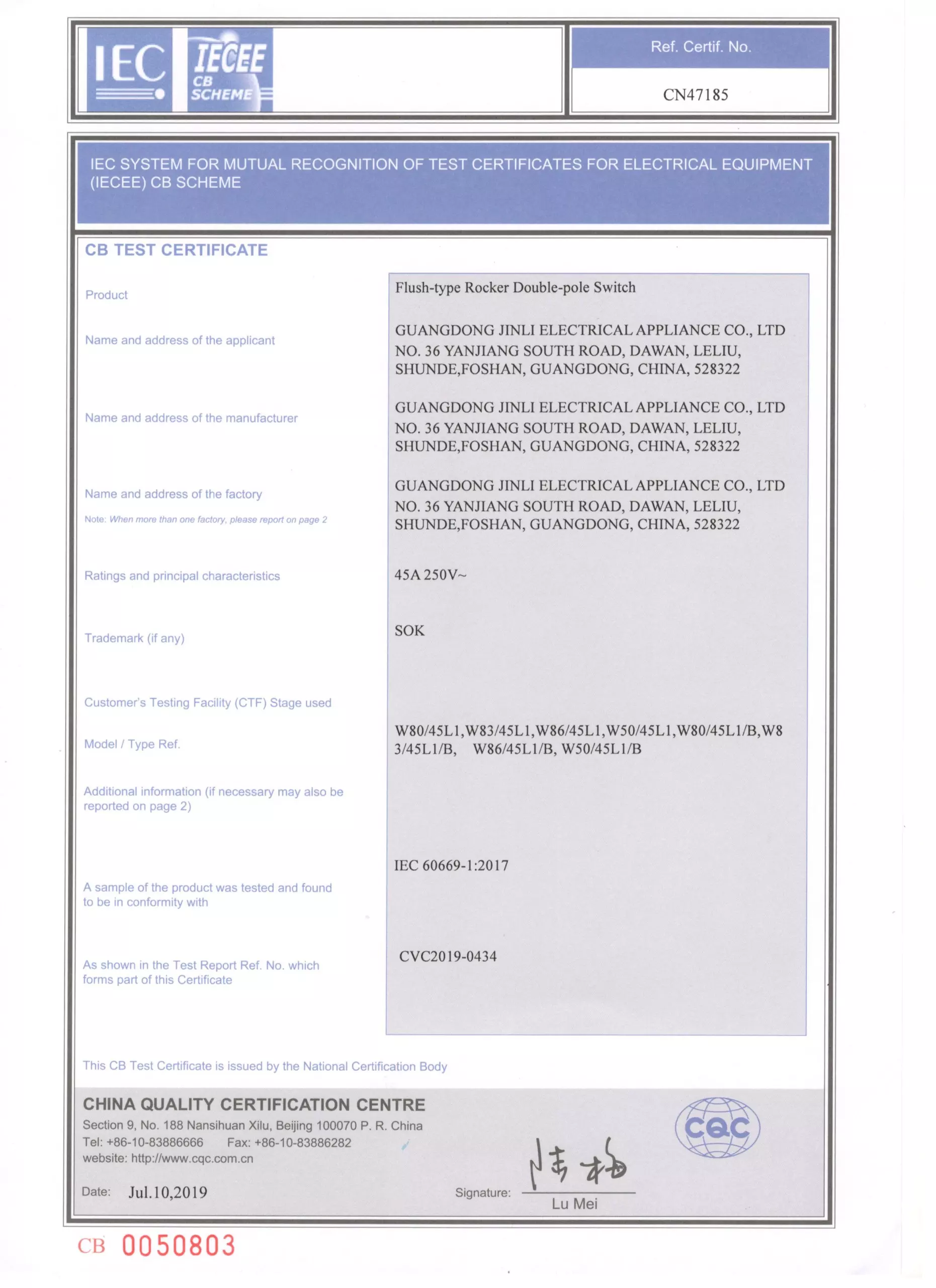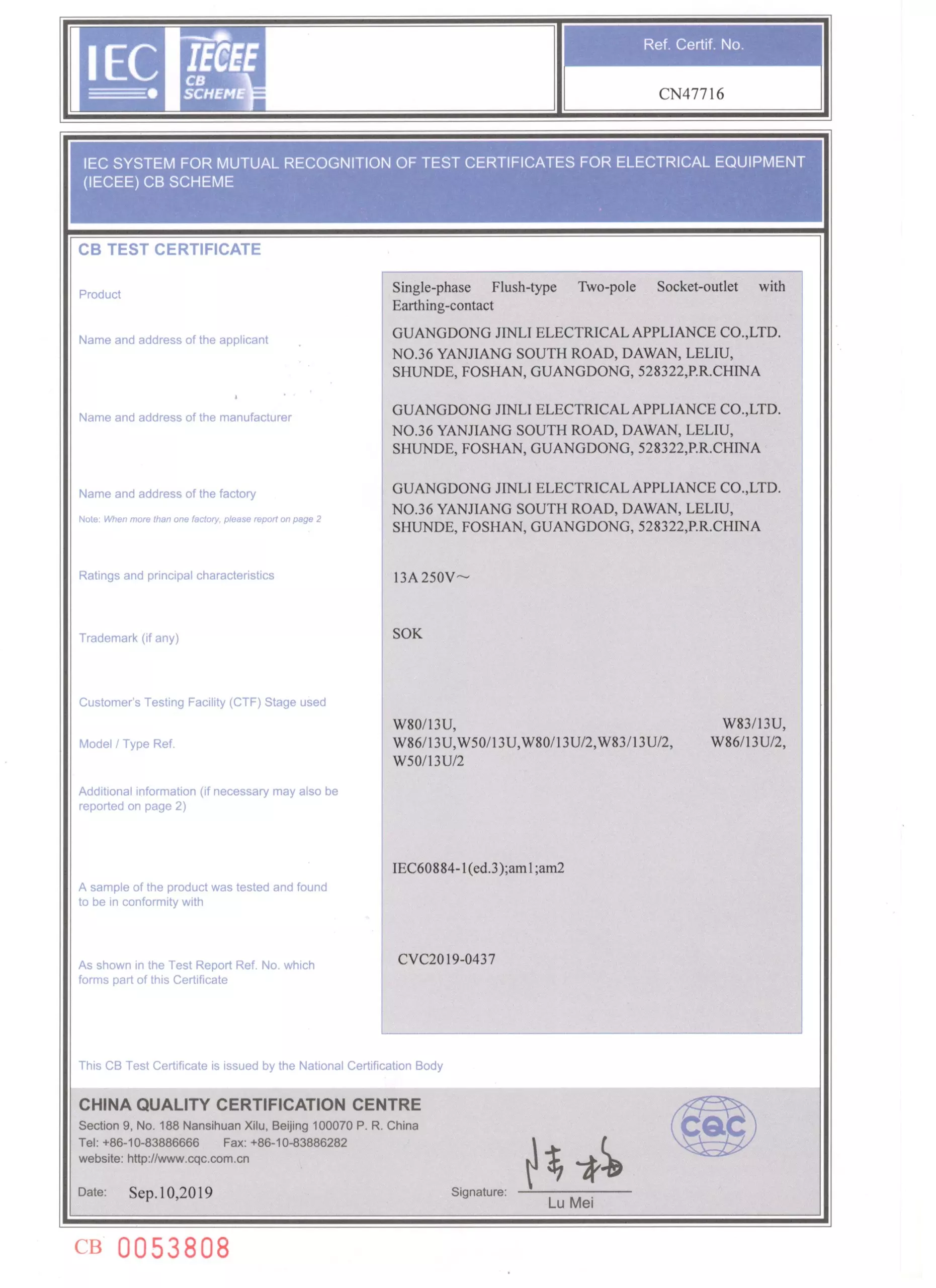 Packing, Loading and Serving of the 1 Gang RJ45 LAN + 1 Gang TV Socket Outlets - White
STANDARD PACKING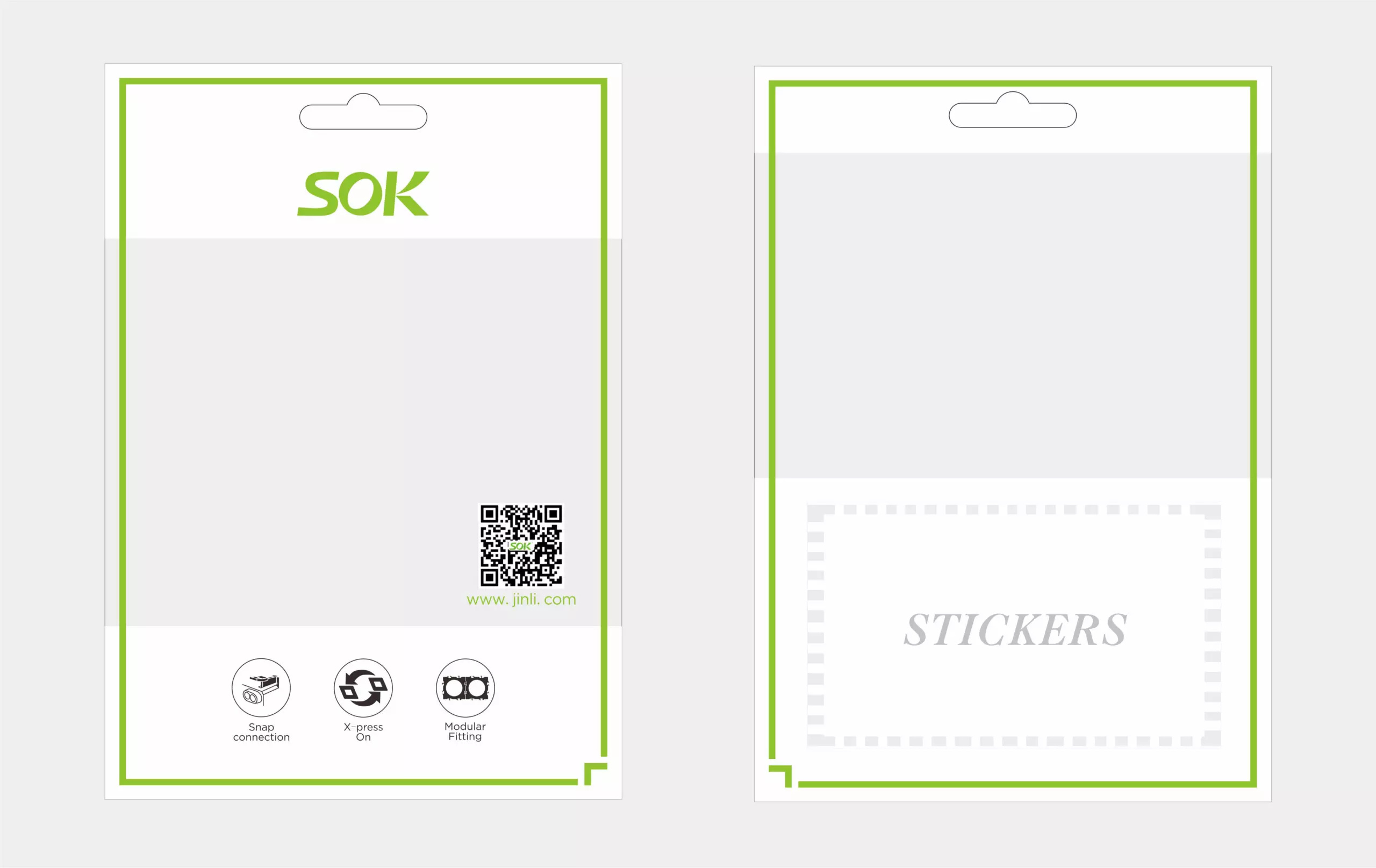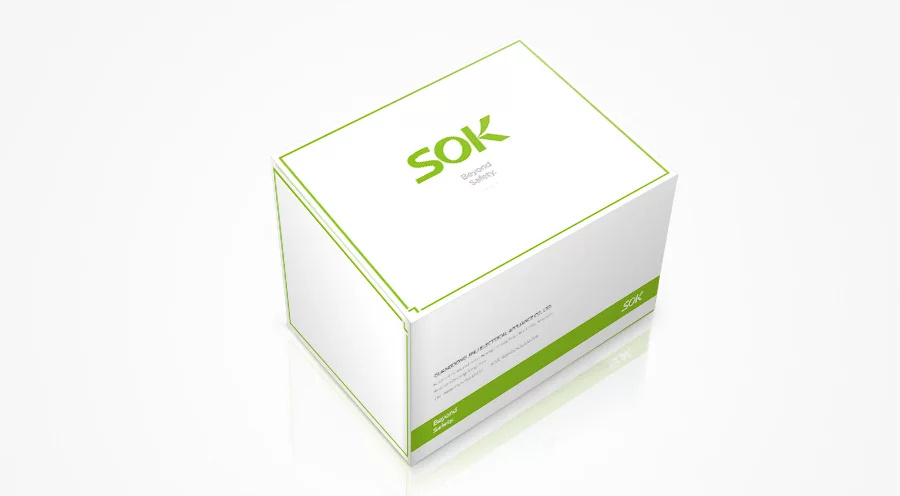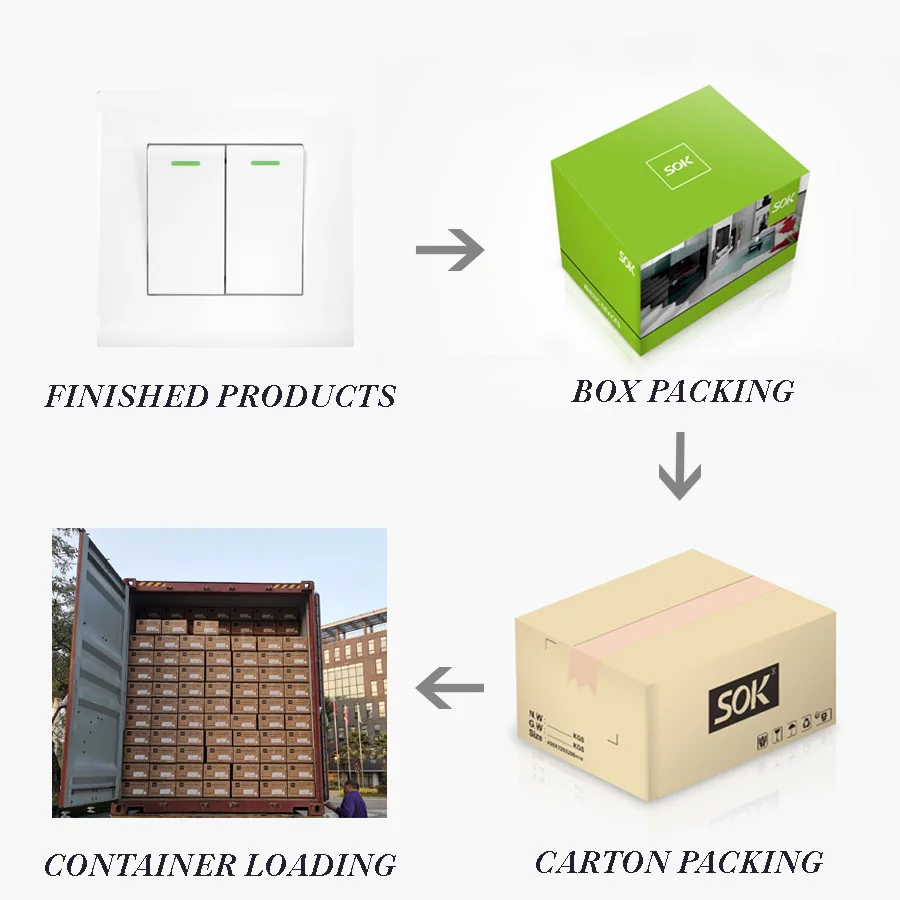 FAQ of the 1 Gang RJ45 LAN + 1 Gang TV Socket Outlets - White
Q: How to wire LAN socket?
A: 1. Introduction of wiring principle : In most of the current households, there are two types of twisted pair-wiring, T568A T568B. The modes or sequences of wiring are below:
T568A wiring sequence is: white green, green, white orange, blue, white blue, orange, white brown, brown
T568B wiring sequence is: white orange, orange, white green, blue, white blue, green, white brown, brown
2. Wiring steps: Step1: use a wire stripping tool to strip the ends of the twisted pairs carefully, for about ten millimeters.
Step 2: press the twisted pairs into the wire rod in advance, and then disassemble the wire pairs and select the wiring mode that we prefer.
Step 3: press all the threads tightly into each corresponding slot, and then use scissors to cut off the excess threads. The last thing is just to install the LAN module on the frame.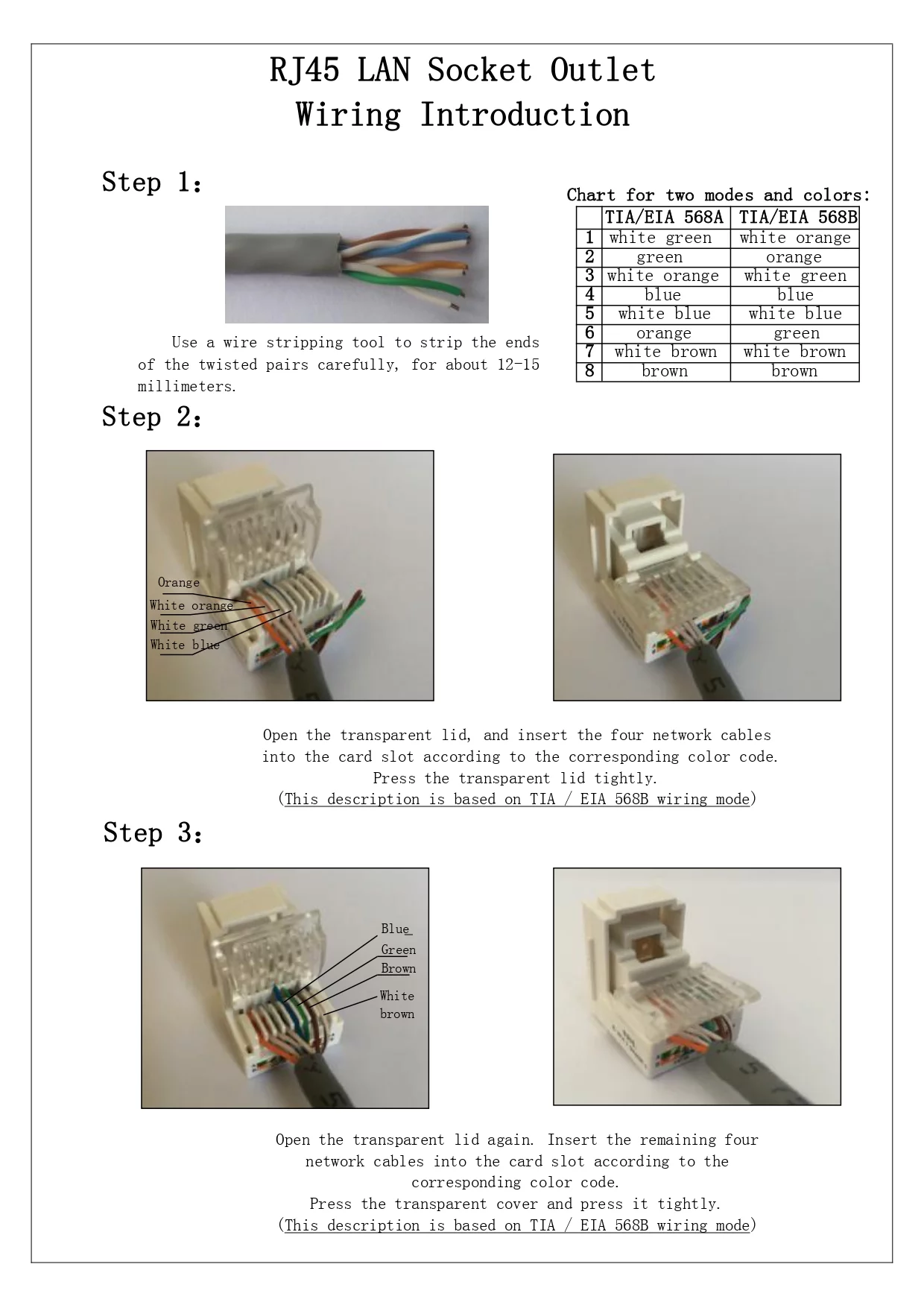 Q: Will LAN socket outlet affect network speed?
A: Yes, if the internet module material of outlet is not good, it will have a great impact on the network. SOK's LAN sockets ensure you high quality and 10-year warranty with ROHS certification and 100% inspection.
Q: What are your main markets?
A: Our main markets are in Southern European Country, East Asia, Middle East, Africa, South America.
Q: What is the difference between satellite TV socket and ordinary TV socket?
A: 1. Interface is different: the satellite TV socket is threaded, and the ordinary TV socket is straight.
2. Frequency range of transmission is different. Satellite TV sockets require a transmission frequency of 860M; while ordinary TV sockets are below 450M.
3. In terms of the sockets'physical structure, the satellite TV socket requires close and reliable contact, and the shielding layer is thicker. An ordinary TV socket has one or more sockets through which various wirings can be inserted.