Schuko power outlet with double USB charger 3.1A 16A with Screw Terminal
Product Detail
Feedback now
The Schuko Power Outlet / Socket Wyth Double USB Port:
The Schuko power outlet with double Charger 3.1A 16A with Screw Terminal offer you convenient experience for life. It's with two USB port and provide 3.1A that match all electronic equipment.
Specifications
Model No.:
S80/16U/USB/2
Product or component type:
USB charger + socket outlet
Electrical Parameter
250v~ 16A
5V DC 3.1A
Device presentation:
Complete product, match with S80 series cover
Outlet poles configuration:
2P + E with shutter
Outlet standard description:
Side earth
Outlet standard
Schuko
Ground lug position
Straight 0° position
Number of modules
1 module
Fixing mode
By screws and claws
Surface finishing
Glossy
Surface treatment
Untreated / Painted
Ambient air temperature for storage
-20…60 °C
Ambient air temperature for operation
-5…40 °C
Protection type
Against short-circuits
Battery charge protection
Automatic restart after ground fault or main power loss
Thermal protection
Automatic overload protection
Connections – terminals
Screw terminals
Number of terminals
3
Clamping connection capacity
1.5...2.5 mm² for rigid cable(s)
1.5...2.5 mm² for stranded cable(s)
Material
PC (polycarbonate): centre plate
PC (polycarbonate): casing
Mire stripping length
12.5 mm
Standards
EN/IEC 60950 IEC 60884-1
Certification
CE, CB, TUV, VDE
Service life in hours
20000 h 15 W
IP degree of protection
IP20
Product Details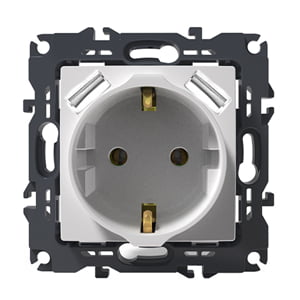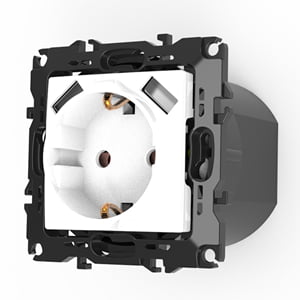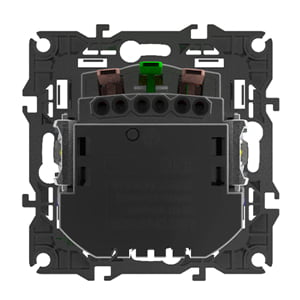 THE IDEAL SOLUTION, ALWAYS & EVERYWHERE
S80 series is a state-of-the-art collection of light switches, dimmers, power outlet, audio, video, data, and USB outlet designed to flatter all types of interior designs. Carefully crafted using the highest quality materials, the stunning finishes position this range at the forefront of electrical accessories.
Tip: Because S80 is a modular system - meaning the frame, mechanisms and cover plates are purchased separately to allow electricians to customise solutions for each project - there are millions of possible combinations. On this website, we showcase a selection of the entire range.